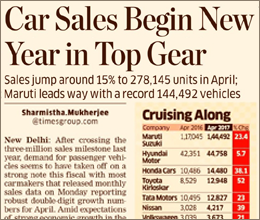 "The April performance showed that the industry has shaken off the temporary dampening effect caused by demonetisation. I see the growth momentum picking up further as we move forward in the new financial year. The GST (goods and services tax) will improve efficiencies. This coupled with rapid infrastructure development should help the passenger vehicles industry post healthy double-digit growth numbers in FY18."

Sridhar V
Partner, Grant Thornton India LLP
This article appeared in Economic Times on 2nd May, 2017.