Speed limiters for Auto PLI scheme
Healthcare and Life Sciences

Home
Report
Technology transformation for future-ready healthcare
Grant Thornton Bharat - AHPI report delves deep into understanding technology transformation in the Indian healthcare industry
Automotive and Manufacturing

Home
Article
Post-Budget Article: Impact on the Automotive Sector
The forward-looking approach adopted in the budget towards this sector has been in alignment with the government's goals of promoting Aatmanirbhar Bharat and moving firmly towards net-zero carbon emissions by 2070, shares Saket Mehra in this insightful article in Financial Express.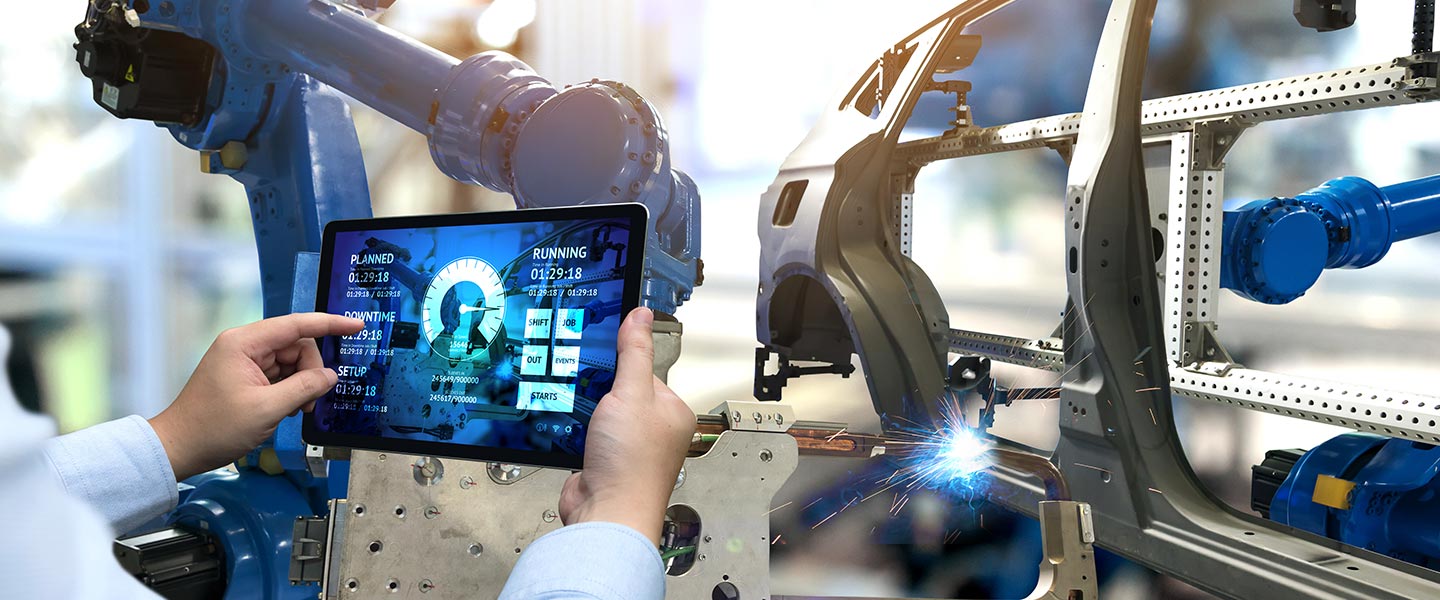 The Government of India (GOI) announced Production Linked Incentive (PLI) scheme for Automobile and Auto components sector to boost domestic manufacturing of Advanced Automotive Technology products and attract investment in the automotive manufacturing value chain with the highest total budgetary allocation of INR 25,938 crore. The industry contributes 35% of India's Manufacturing GDP.
This PLI scheme is distinctive as it attempts to address the competitive gaps owing to the rapid technological shifts and provides the opportunities to make India an integral part of global supply chain for advance automotive technology products.
Open for existing automotive companies as well as new investors, the scheme is a 'sales value linked' scheme and has two components of Advance Automotive Technology products:
Champion OEM Incentive Scheme on battery electric vehicles (EV) and hydrogen fuel cell vehicles (HFCV) of all segments.
Component Champion Incentive Scheme
Eligibility criteria to apply under the schemes are as follows (INR in Crores):
For existing automotive investor

Minimum Global Group Revenue of INR 10,000 and INR 500 for OEM and Component manufacturer respectively
Minimum Global Investment in fixed assets of INR 3,000 and INR 150 for OEM and Component manufacturer respectively

For new non-automotive investor Minimum Global net worth of INR 1,000 crores
Above eligibility is based on audited financial statement for FYE 31 March 2021. In addition to this, the Company will also have to meet the criterion of incremental cumulative domestic investment and determined sales target.
1. Amendment in the list of eligible products
Ministry of Heavy Industries (MHI) has prescribed the following vehicle as Advance Automotive Technology Vehicles eligible for Champion OEM Incentive scheme.
Battery electric vehicles of all segments which meet the performance criteria of FAME-II scheme or as notified from time to time by MHI
Hydrogen fuel cell vehicle of all segments
List of Advance Automotive Technology Components was notified on 9 November 2021. Fast-evolving automotive regulations on emissions, safety and energy efficiency, coupled with swift changes in consumer trends are the driving factors for technological shifts globally including shift towards electric vehicles and rising level of vehicle automation and connectivity.
It is pertinent to note that the guidelines mention that the list of eligible products can be amended from time to time depending upon technological developments.
With this ambivalence in the list of eligible products, it might not be possible for applicants to reap benefit for the entire tenure of the PLI scheme. Further, in case applicant is not able to achieve the turnover and investment criteria due to alteration of the list of eligible products, MHI may invoke the bank guarantee furnished by the applicant.
Further, for continuation of the PLI scheme benefit, an applicant may require additional investment for everchanging uncertain eligible product criteria.
2. Minimum 50% of domestic value addition
The scheme guidelines require a minimum of 50% domestic value addition.
A study has estimated that top 12 import categories such as drive transmission, steering units, engines etc. account for 62% of total imports. While India remains competitive in some areas, there remain technologies and parts that are either not made in India or for which we haven't matched the global scale, prices, or quality. India relies heavily on import of following:
Lithium batteries
About 58% of the world's lithium reserves are in Chile and about 43% of rare earth mineral reserves are in China. Owing to this skewed concentration globally, India had to import lithium batteries in huge quantities. In 2019-20, India imported 450 million units of lithium batteries valued at INR 6,600 Crores. Lithium battery pack is the most expensive component in an electric car, costing between 30 to 40 percent of the vehicle's total cost.
Semiconductor chips
Prices of semiconductors have been climbing since 2020 amid global supply crunch Chip lead time increased to 17 weeks from 12 weeks in 2020. This will result in rise in import input cost as India relies heavily on import of semiconductor chips.
Therefore, such heavy reliance on imports of inputs such as lithium batteries, semiconductor chips, e-drive, circuits, transistor etc. which accounts about half of the vehicle's cost, may pose a significant challenge for applicants to comply with 50% of minimum domestic value addition criteria.
3. Restraint of eligible Investment under PLI scheme
For the claim of incentive, it is mandatory to fulfil the criteria for cumulative minimum domestic investment yearly as prescribed.
Land and building cost
Land cost will not be considered as eligible investments under this scheme. Also, building structure of the main plant and utilities will be considered provided it does not exceed 10% of the Minimum Cumulative Domestic Investment for the given segment.
Considering land and building forms a major part of the investment, such restriction poses a burden on applicants for additional funding which might be required for these investments and the wake of the COVID-19 has led to uncertainty in the economic environment which may upshot another challenge of sourcing fund.
Exclusion of preparatory investments made prior to 1 April 2021
Despite the COVID-19 pandemic and its damage to the Indian economy, the electric vehicle and e-mobility sector have been able to boost the confidence of investors for lapping of opportunities. Even though EV sales declined 20% YoY in FY 2020-21, it was good year for the EV industry in terms of funding and investments.
PLI scheme prescribes cumulative domestic investment commencing from 1 April 2021 and capitalization in the books of accounts. Consequently, capital work-in-progress investments invoice dated prior to 1 April 2021 would not be considered as eligible investment.
Acceptability of EV grew since FY 2019-20 and consequently led to investments in the industry from FY 2020-21 onwards. Therefore, exclusion of investments made in FY 2020-21 may impose additional burden on applicant companies to comply with the condition of minimum cumulative domestic investments.
4. Frontloading of Investment
Guideline has prescribed that preference will be given to applicants frontloading their investments and investment commitment will be evaluated basis Net Present Value ('NPV').
This could cause disparity for applicants forecasting to comply with prescribed cumulative domestic investment criteria yearly. Further, as the total budgetary outlay is INR 25,938 crores, in case the pay-out exceeds the budgetary outlay, the scheme could be exhausted earlier.
As a result, despite frontloading of investments, there may arise a situation where anticipated incentive is not grasped by applicant, if the total budgetary outlay gets exhausted.
On the other hand, if investments are not appropriately frontloaded, applicant may not be selected.
5. Charging Infrastructure
Successful execution of the PLI scheme would require considerable investment in the charging and other infrastructure to support the operation of EV and HFCV amongst consumers. Government needs to fast-track its plan for setting up charging infrastructure to boost the demand for electric vehicle in India and to mitigate range anxiety faced by consumers as their car may get stalled if they run out of power.
In a recent interview, the NHAI chairman Mr. Giridhar Aramane said 700 charging stations will come as part of wayside amenities on national highways. EV charging stations will be set up every 40-60 kms of 40,000 kms of highway coverage by 2023.
Thus, infrastructure challenge may deter the desired sales of EV and HFCV and as a result complying with Y-o-Y growth in determined sales value will be dubitable.
Conclusion:
Thought, there are certain speed limiters for auto PLI scheme, undermining the scheme at the current stage rather than by the results in the coming time would be imprudent. As Quoted by Milton Friedman, "One of the great mistakes is to judge policies and programs by their intentions rather than their results".
The initiative of PLI scheme will help leapfrogging technology to environmentally cleaner vehicles, increase localization with accelerated investment towards EV ecosystem and has potential to make India an export hub in the global auto supply chain.
Even though PLI scheme is welcome step to encourage manufacturer for production of advance automotive technology product for the auto industry, if the abovementioned speed limiter were addressed it will attract more manufacturer for production of fuel-efficient vehicle at full speed!