Tapping into the burgeoning BFSI market
FinTech Consulting Services

Leveraging our FinTech Consulting experience, we employ our proven approach in process reviews, tech risk management, and third-party audits for Indian financial services clients.
The Consumer & Retail sector is growing rapidly and is extremely dynamic. Due to constant disruption, managing business has become complicated and cumbersome.
Our healthcare and life sciences advisory team brings together a combined experience of over 50 years to help businesses navigate through changes, new...
At Grant Thornton in India, our automotive team works with a wide variety of clients to help them achieve their goals and increase shareholder wealth. Our...
M&E practice encompasses team of dynamic professionals with deep technical knowledge and extensive experience of working across segments say television, print,...
Tailored service offerings to Not for Profit organisations and CSR compliance services for dynamic businesses
At Grant Thornton, we assist dynamic Indian businesses in the Real Estate & Construction sector throughout their business life cycle by offering robust...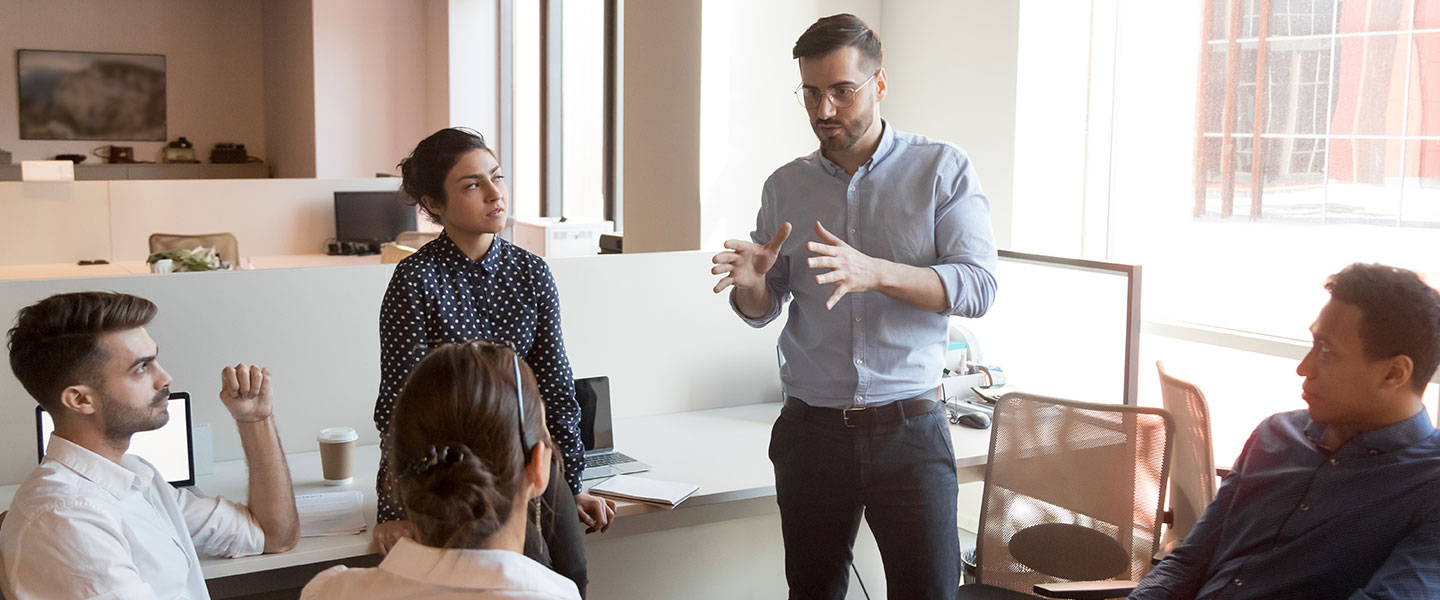 Context setting in the large and complex application portfolio landscape
Organisations often merge and acquire entities with the purpose of gaining a competitive advantage. This enables them to establish footholds in existing as well as new sectors, geographies, product lines, etc. While this is a good move, such shifts also bring along larger enterprise portfolio landscapes which are disparate, siloed and locally managed (even funded locally in many cases).
Here starts a pursuit that is two-fold – external and internal. External pursuits are focused towards brand awareness, consumer reach, market share/ penetration and related aspects. Organisations on the other hand, internally focus on change management, whether it is cultural, hierarchical (roles and responsibilities), innovation, process, policies, data and many more.
Apart from all the above, one of the most important internal changes is to unify the enterprise application landscape that has a direct impact on the way organisations internally communicate, collaborate, innovate and bring a positive impact to the bottom line.
"Enterprise application landscape has direct impact on the way organisations internally communicate, collaborate, innovate and bring a positive impact to the bottom line."
In large organisations, the enterprise application portfolio landscape is often complex and siloed. Even though such inefficiencies are largely known, quantifying and substantiating these inefficiencies may be extremely time consuming and require great effort. However, if the focus is to move rapidly, whether to identify inefficiencies, its potential solutions or to implement the most suited solution - there are certain areas that can be prioritised.
Dip-stick assessment to establish an effective APM (application portfolio management)
Some of the top actions that CIOs must initiate are to understand business needs, identify preferred procurement, support model, formulate an enterprise-wide IT application strategy, roadmap and formulate a formal approach with an action plan. This primarily requires a dip-stick assessment of current enterprise application landscape that will help to enable the following: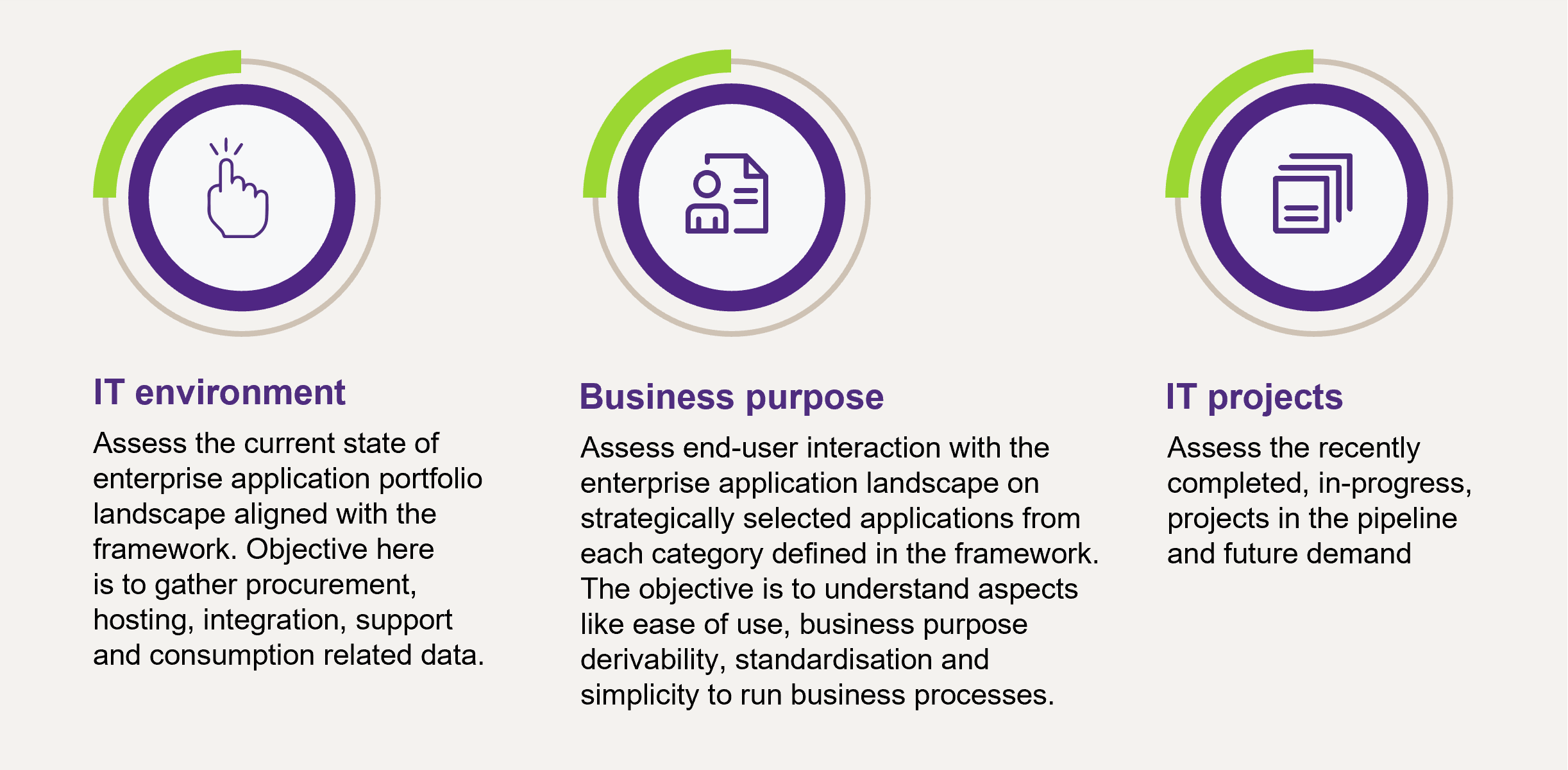 Potential quick wins
By the end of dip-stick assessment, inefficiencies that will translate into low-hanging opportunities will be discovered. Here are some of the most found opportunities that can be addressed first:
Which contracts are nearing the end of term? This is a crucial opportunity to identify and hold on to, otherwise the waiting time for the next opportunity could be longer or costlier.
How are support services procured across entities or regions? What is the degree of unification, most importantly for core organisations?
Process repetition, performed with slight variations in different parts of the organisations that determine modules or configuration to suit process design.
Are processes automated with new-age digital automation technologies such that multiple automation tools are used to run similar processes in different parts of the organisation?
Is there existence of unutilised or underutilised resources? This could be a result of a host of reasons. They might not be needed any longer, they might be outcomes of poor decision making, they might have come bundled in a suit or they may carry contractual obligations
How are external hosting services modelled and consumed in different parts of the organisation?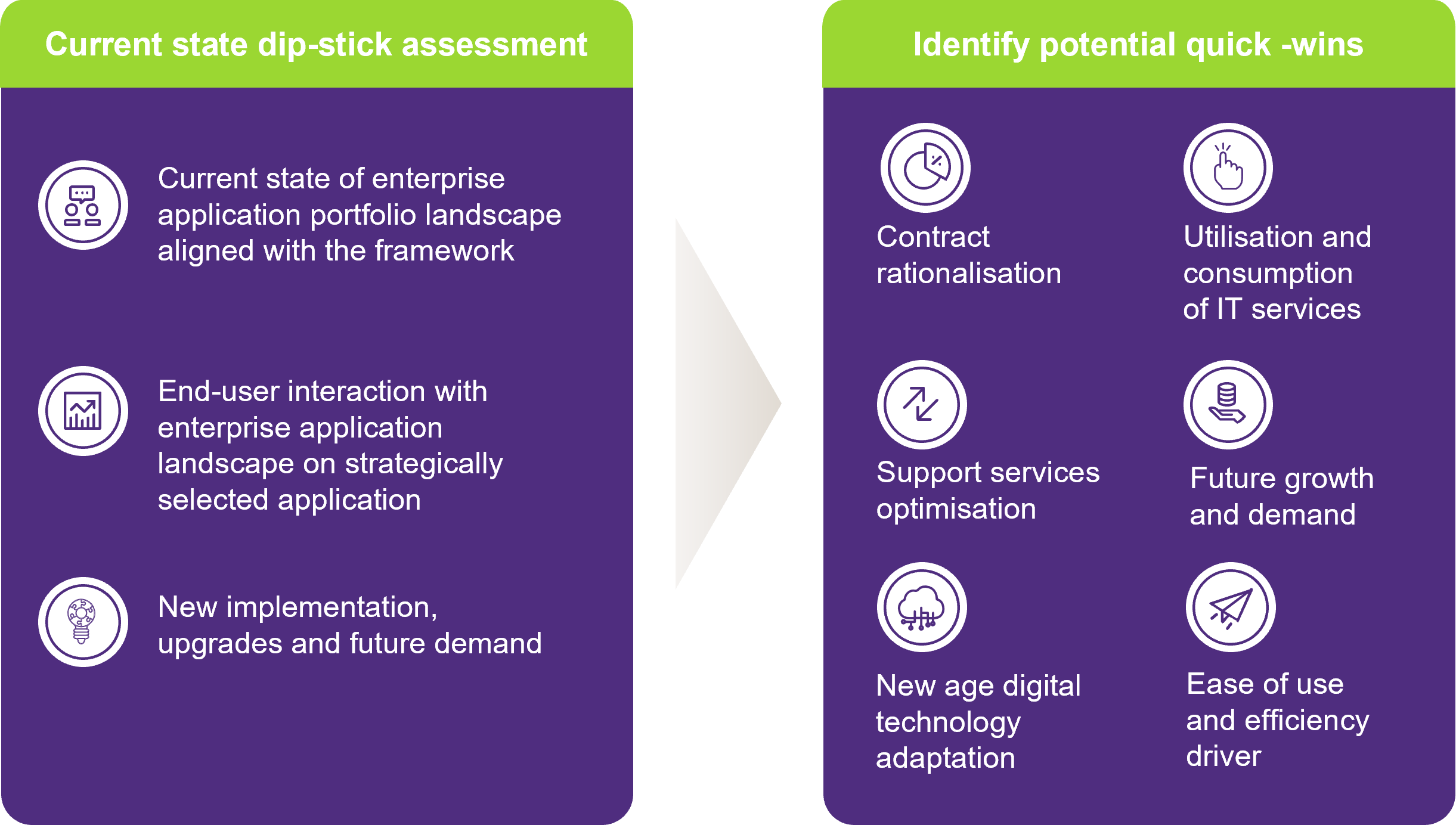 Journey of enterprise application portfolio simplification and standardisation
Depending on the size of an organisation, the data collected through the dip-stick assessment could be large and complicate this exercise. However, if the study is in line with a well-defined framework, it is very likely to carry out opportunity identification with a significant degree of ease.
While it is beneficial to identify potential rationalisation opportunities, it may not be easy. There are region specific regulatory aspects, particularly when it comes to data as there are contractual obligations, and the required support might be unavailable in certain regions. Hence, it is of utmost importance that organisations bring risk, compliance, legal, procurement, vendor management and other relevant parties into this engagement from time to time to ensure risks are managed and mitigated during this journey of enterprise application portfolio simplification and standardisation.