The Consumer & Retail sector is growing rapidly and is extremely dynamic. Due to constant disruption, managing business has become complicated and cumbersome.
Related insights:
Article
Budget 2023 expectations of retail sector
Top 5 budget 2023 expectations of retail sector
At Grant Thornton in India, our automotive team works with a wide variety of clients to help them achieve their goals and increase shareholder wealth. Our...
Related insights:
Article
Post-Budget Article: Impact on the Automotive Sector
The forward-looking approach adopted in the budget towards this sector has been in alignment with the government's goals of promoting Aatmanirbhar Bharat and moving firmly towards net-zero carbon emissions by 2070, shares Saket Mehra in this insightful article in Financial Express.
Why do so few women make it to the top of the business world? And what can we do about it?
These are the key questions considered by our 2015 women in business report which looks at the barriers and enabler along the path to business leadership. Drawing on a suvey of 5,404 business leaders and in-depth interviews with 20 policymakers, academics and senior decision-makers from inside and outside Grant Thornton, we draw out 12 recommendations for society, government, businesses and women themselves on how to facilitate female advancement.
Headline findings
We have been tracking gender diversity in business leadership over the past decade but there has been very little change in the headline figures. Today, just 22% of senior roles are held by women, compared with 19% in 2004. Almost a third of businesses have no women in their senior leadership teams, although this has fallen by 6 percentage over the past three years.
Russia sits top of the global league table with 40% of senior roles occupied by women. It is joined in the top ten by six other economies from Eastern Europe, including Georgia (38%) and Poland (37%). Japan (8%) still sits bottom of the table as it has done every year since 2004. Germany (14%) and India (15%) sit second and third last respectively.
Business leaders highlighted a range of enablers and barriers along the path to promotion. Some of the key themes to emerge were: parenthood and family care require women to make sacrifices; women are more likely to work their way up to management support positions; women are twice as likely to cite gender bias as a barrier; and men and women network differently.
The 12 recommendations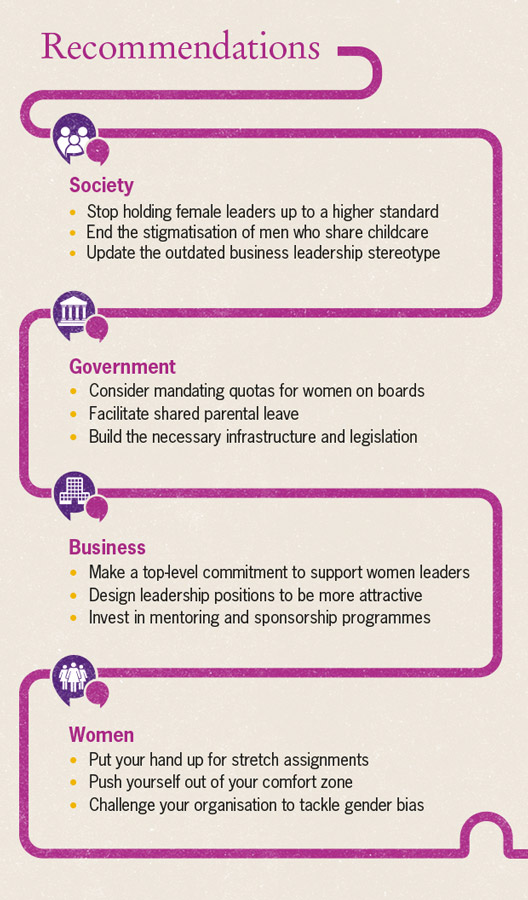 Download full report
Download PDF [5170 kb]