Healthcare and Life Sciences

Home
Our publications
BillionFit: Technology redesigning healthcare
Our report, BillionFit: Technology redesigning healthcare, navigates through key trends in disruptive technologies in healthcare, with a focus on India. This paper captures India's Healthcare and Fitness scenario from a technology perspective, while providing some insight into the recent developments globally.
Automotive and Manufacturing

Home
Report
M&A in auto: Shifting gears to be future ready
Grant Thornton report that outlines how the drivers of M&A-led expansion by Indian auto component players have been evolving
Media, Technology and Entertainment

Home
Publication
The Digital Accelerate – New regulatory framework implementation guide
The publication summarises the transition process mandated by TRAI for digital television services, and how consumers can select their subscriptions.
Real Estate and Construction

Home
Report
Improving transparency in secondary real estate market
Holistic pan-India assessment on various parameters in the secondary market & direct impact of a regularised secondary market on stakeholders.
This Stressed Assets Tracker is a ready reckoner on stressed companies – some already under IBC, others headed in that direction. It has been compiled with information in the public domain for ease of reference of potential investors, both domestic and international.
Please note that this is an abridged version. To download the complete report, please fill in the contact form below.
Download abridged report
Download PDF [1026 kb]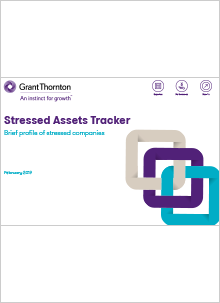 Summary – Key financial metrics
| Sr. no | Company name | Industry | Revenue | EBITDA | PAT | Long term Debt | Short term debt | Net block | Year end | Status | Admitted on |
| --- | --- | --- | --- | --- | --- | --- | --- | --- | --- | --- | --- |
| 1 | Amtek Auto Ltd. | Automotive and auto components | 19,668 | 10,267 | -25,335 |  N/A  | 39,281 | 127,763 | 2017 | Admitted | 13-Oct-17 |
| 2 | ARGL Ltd.  | Automotive and auto components | 2,807 | 468 | -942 | 4,599 | 246 | 5,411 | 2016 | Admitted | 16-Mar-18 |
| 3 | Castex Technologies Ltd. | Automotive and auto components | 14,672 | 1,826 | -10,385 | 114 | 62,736 | 59,124 | 2017 | Admitted | 10-Dec-17 |
| 4 | Dilip Chhabria Design Pvt. Ltd. | Automotive and auto components | 465 | 31 | 162 | 1,255 | 968 | 1,785 | N/A | Admitted | 14-Dec-18 |
| 5 | Falcon Tyres Ltd. | Automotive and auto components | 12,081 | 766 | 40 |  N/A  |  N/A  | 9,071 | 2014 | Admitted | 28-Apr-18 |
| 6 | Global Gallarie Motors Pvt. Ltd. | Automotive and auto components | 1,296 | 44 | -4 |  N/A  |  N/A  |  N/A  | 2014 | Admitted | 23-Jan-18 |
| 7 | Kusalava Batteries Pvt. Ltd. | Automotive and auto components | 1,798 | 1,798 | 1,798 | 43 | 64 | 13 | 2017 | Admitted | 16-Nov-18 |
| 8 | Liners India Ltd. | Automotive and auto components | 714 | 50 | -4 | 52 | 495 | 959 | 2017 | Admitted | 30-Oct-18 |
| 9 | Lotus Auto Engineering Ltd | Automotive and auto components |  N/A  |  N/A  |  N/A  |  N/A  |  N/A  |  N/A  | N/A | Admitted | 07-Jul-18 |
| 10 | Metalyst Forgings Ltd. | Automotive and auto components | 11,084 | 1,750 | 6,497 | 3,696 | 36,015 | 39,786 | 2017 | Admitted | 15-Dec-17 |