Tapping into the burgeoning BFSI market
FinTech Consulting Services

Leveraging our FinTech Consulting experience, we employ our proven approach in process reviews, tech risk management, and third-party audits for Indian financial services clients.
The Consumer & Retail sector is growing rapidly and is extremely dynamic. Due to constant disruption, managing business has become complicated and cumbersome.
Our healthcare and life sciences advisory team brings together a combined experience of over 50 years to help businesses navigate through changes, new...
At Grant Thornton in India, our automotive team works with a wide variety of clients to help them achieve their goals and increase shareholder wealth. Our...
M&E practice encompasses team of dynamic professionals with deep technical knowledge and extensive experience of working across segments say television, print,...
Tailored service offerings to Not for Profit organisations and CSR compliance services for dynamic businesses
At Grant Thornton, we assist dynamic Indian businesses in the Real Estate & Construction sector throughout their business life cycle by offering robust...
We are pleased to present the H1 2019 Dealtracker which captures recent deal activities in India.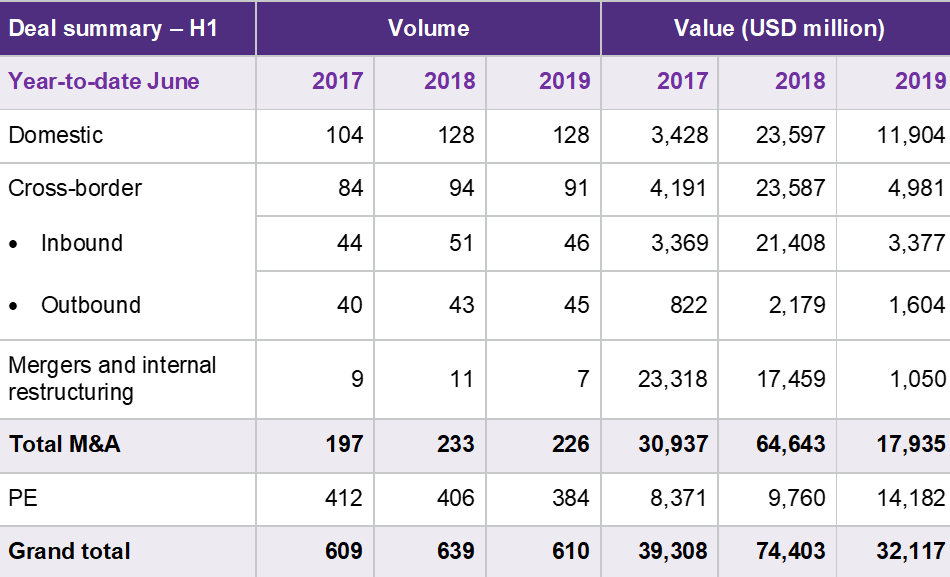 The year so far has been a mixed bag with many macro plus political issues, subdued inflation over US Fed's rate hike update leading to uneasiness over the US and global economies, US-China trade wars, and spike in international crude oil prices amid uncertainties around the US sanctions on Iranian oil imports. On back of the prevailing uncertainties, the year so far recorded restrained deal activity: There were 600 deals worth USD 32 billion, with values falling to less than half of the levels seen in H1 2018. This was despite easing of Indo-Pakistan tensions, strengthening of Indian rupee against the US dollar and encouraging domestic sentiment due to easing inflation, giving rise to expectations of lower interest rates and record PE investment flows.
H1 2019 recorded the lowest overall M&A deal values compared to the last three years on account of absence of big ticket transactions. Domestic players transacted over 130 deals clocking about USD 13 billion, a 3x fall in the deal values compared to H1 2018, while cross-border deal values recorded around a 5x fall in values at USD 5 billion from over 90 transactions. Distressed assets deals have been a dominant theme in the M&A space. The IBC regulation and process is at an inflection point and supportive regulations and further efficiencies will make this a pacesetter for the coming years. Comparatively, there has been a resurgence of strategic domestic acquirers looking for opportunities in their core business to grow market share or expand geographical reach. There has been an increase in stock transaction driven M&A.
H1 2019 witnessed PE investment worth over USD 14 billion, surpassing the previous highest by 45% but recording the lowest volumes in the last five years. This trend resulted in PE investment average deal size record at USD 37 million, marking the highest y-o-y till date. Investments into the Indian markets after a long period of muted flows resulted from central banks scaling back their monetary policy decisions on global growth concerns. Key trends witnessed include PE players forming Special Purpose Vehicles (SPVs) to execute deals resulting in the year witnessing top deals, PEs shaking hands with corporates to form a new entity for executing deals, evolution of vibrant Real Estate Investment Trust (REIT) market in India, and witnessing deal traction with issuers from infra-related sectors to launch Infrastructure Investment Trusts (InvITs) on a private placement basis.
Sector focus: Sectors that performed during the year include manufacturing, energy, banking, IT, infra, pharma and start-ups. These sectors will perhaps continue to have substantial deal activity in the coming months with the Indian economy booming due to increasing urbanisation, rising middle class population, and a business-friendly government rolling encouraging reforms.
Outlook: Given rising global concerns around trade wars and slowdown in growth, India is emerging to be a preferred destination with many global investors. The outcome of the latest elections has given a boost to the country's attractiveness. Deal makers will be focused on the intensity of new reforms to drive growth. On the flipside, earnings announcements, RBI's stance on policy rates, the Union Budget, crude oil movement, and global growth would be the other factors affecting markets over the next few months along with the ongoing debate around global slowdown, monetary policy actions of global central banks and global trade tensions. We are confident of witnessing an accelerated and mature deal market with a surge in transactions and investments with the NDA government coming to power again. It is expected to streamline existing reforms and introduce new ones, enabling renewed deal activity and minimising uncertainty in the deal landscape.
Read full report
Download PDF [2631 kb]