Tapping into the burgeoning BFSI market
FinTech Consulting Services

Leveraging our FinTech Consulting experience, we employ our proven approach in process reviews, tech risk management, and third-party audits for Indian financial services clients.
The Consumer & Retail sector is growing rapidly and is extremely dynamic. Due to constant disruption, managing business has become complicated and cumbersome.
Our healthcare and life sciences advisory team brings together a combined experience of over 50 years to help businesses navigate through changes, new...
At Grant Thornton in India, our automotive team works with a wide variety of clients to help them achieve their goals and increase shareholder wealth. Our...
M&E practice encompasses team of dynamic professionals with deep technical knowledge and extensive experience of working across segments say television, print,...
Tailored service offerings to Not for Profit organisations and CSR compliance services for dynamic businesses
At Grant Thornton, we assist dynamic Indian businesses in the Real Estate & Construction sector throughout their business life cycle by offering robust...
Development Positive
Overcoming infrastructural challenges in Namchi
Grant Thornton provides a unique solution for the Namchi Smart City project
August 2019
Executing smart city projects in India poses a unique challenge - the challenge of blending modernity without disturbing the local culture and habits. If anything, the project should not only adopt local ethos but also showcase it.
From a list of 100 cities in India being revamped under the Smart Cities Mission of the Indian government, some of the works under the Namchi Smart City project in Sikkim turned out to be quite unique. This project is being executed by Grant Thornton.
Any project under the Smart Cities Mission is classified under the Area Based Development (ABD) scheme. In Namchi, 13 broad areas ranging from mobility to sewage treatment, city branding, and those related to schemes promoting heritage and culture have been identified under ABD.
One of the projects identified under these was to modernise a Buddhist crematorium in the Aahley Gumpa area. With a 30% Buddhist population in the city, this was a priority project that needed intervention.
Background
There are two cremation grounds and one burial ground in Namchi. One cremation ground is in Aahley Gumpa and the other is located near Tifin Samduptse Dara. People preferred the Aahley Gumpa crematorium due to its proximity.
However, it had a few shortcomings. Structural inadequacies, scarce water supply and lack of parking space posed a major issue. Despite having a capacity to accommodate 1,000 people, the existing infrastructure in terms of toilets, and kitchen and dining area was inadequate.
Existing site
| | |
| --- | --- |
| | |
| Inadequate infrastructure | Dilapidated cremation pyre |
Grant Thornton's intervention
After Grant Thornton won the bid to revamp Aahley Gumpa, our team comprising of Manas Sarma, led by Ravinder Reddy and Vishnu Varre, came up with a unique plan for redesigning the structure in about six months. Based on consultations, the core philosophy of the redesign was that it should be a peaceful place of commemoration, respite and remembrance for mourners and simultaneously allow the lamas to perform the rituals with full concentration.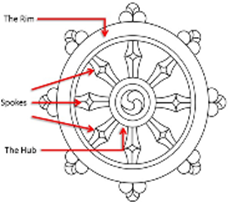 The design that Grant Thornton's team proposed was inspired from one of the main ethos of Buddhism - the wheel of dharma. The wheel of dharma or the dharma chakra is one of the oldest symbols of Buddhism. Just like a cross represents Christianity, this symbol represents Buddhism all around the world. A traditional dharma wheel is a chariot wheel with varying numbers of spokes. Usually, eight spokes are the most common.
The schematic diagram shown below gives the evolution of the crematorium's design inspired from the wheel of dharma.
The design of the new crematorium space will consist of the following elements: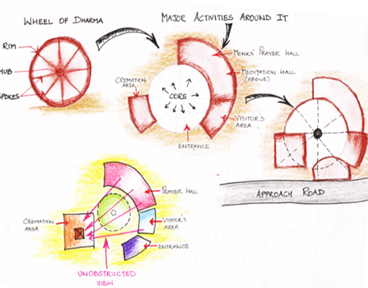 Entry-exit points: Redeveloping/Re-orienting the arrival and departure points, pedestrian entry points, and staff entry points
Parking: Parking provision for incoming and outgoing vehicles
Park/Gathering space: Open area for public and/or individual gathering
Toilets/food preparation area: Closed structures for miscellaneous activities
Prayer hall: Semi-enclosed area offering a location for the lamas to perform rituals before/during/after cremation
Meditation hall: A meditation hall, equipped with a kitchen and toilet, for the mourners to reflect and remember the deceased. In everyday practice, the hall can be used by the monks of the Gumpa for mediation purposes
Cremation furnace: A semi-enclosed structure for cremating the dead body with a sitting area for the mourners
The new proposed design (as shown below) was accepted and the foundation stone for the new structure was laid in January this year.
The revamped structure is now expected to be ready and functional by next year. This unique project attempts to fulfil the demands of the Buddhist lamas of Aahley Gumpa, and is expected to be one of the most unique smart city projects done in the country - one where local values and tradition are blended with the modernity.
Birds-eye view of the ceremonial space and cremation furnace
| | |
| --- | --- |
| | |
| Allied facilities complex | Monks' prayer and meditation hall |