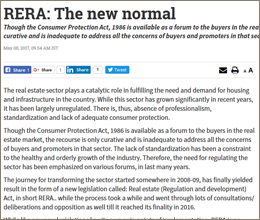 "The real estate sector plays a catalytic role in fulfilling the need and demand for housing and infrastructure in the country. While this sector has grown significantly in recent years, it has been largely unregulated. There is, thus, absence of professionalism, standardization and lack of adequate consumer protection."
Neeraj Sharma
Director, Grant Thornton Advisory Private Limited
This article appeared in Economic Times on 8th May, 2017.