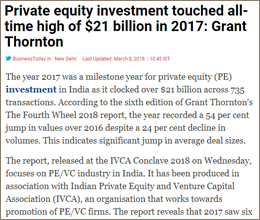 "On the reforms and regulatory front, 2017 was an action-packed year with various initiatives aimed at driving economic stability. We believe these efforts will boost long-term investors' confidence and help in creating a platform for a new era of PE/VC activity in Indian corporate landscape, where they take larger roles, higher stakes, and greater exposure in the long-run."
Harish HV
Partner, Grant Thornton India LLP
This article appeared in Business Today on 08th March, 2018.