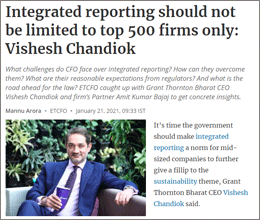 "The expectation is that Integrated Reporting should now have a wider application and not only be limited to the top 500 companies. The government can help drive greater adoption by incentivising organisations and recognising the contributions of companies that have implemented this. However, directionally, it does need to start from the larger companies and move gradually to the smaller ones. The government should have a dashboard of these KPIs, which will eventually help in improving ease of doing business rankings as well as enhancing India's global brand."
Vishesh C Chandiok
CEO, Grant Thornton Bharat
This article appeared in CFO Economic Times on 21st Jan, 2021.