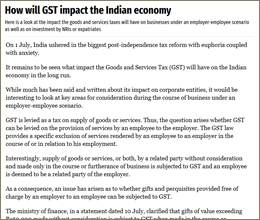 "GST is levied as a tax on supply of goods or services. Thus, the question arises whether GST can be levied on the provision of services by an employee to the employer. The GST law provides a specific exclusion of services rendered by an employee to an employer in the course of or in relation to his employment."
Vikas Vasal
Partner, Grant Thornton India LLP
This article appeared in Live Mint on 11th August, 2017.