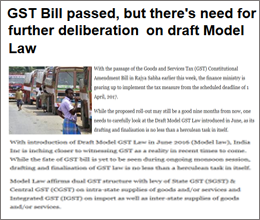 With introduction of Draft Model GST Law in June 2016 (Model law), India Inc is inching closer to witnessing GST as a reality in recent times to come. While the fate of GST bill is yet to be seen during ongoing monsoon session, drafting and finalisation of GST law is no less than a herculean task in itself.
Amit Sarkar
Partner, Grant Thornton India LLP
Krishan Arora
Director, Grant Thornton India LLP
This article apeared in Firstpost on 5th August, 2016.