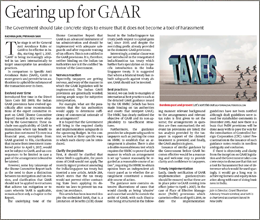 The stage is set for General Anti Avoidance Rules or GAAR to be effective in India, starting April 1, 2017. 'GAAR' is being increasingly adopted in tax laws internationally to target unacceptable tax avoidance practices.
However, the Government should take concrete steps to ensure that it does not become a tool of harassment.
Radhika Jain
Director, Grant Thornton Advisory Private Limited
This article apeared in The Hindu Business Line on 19th January, 2017.