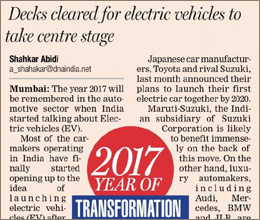 "OEM's would not want to be left behind in the race to come up with products and options, and thereby their presence in the market. Indian government has kick-started with floating tenders and deliveries have started taking place. Every manufacturer would want to be a part of it while doubts still linger in some minds on when to invest and how much to invest as far as India is concerned,"
Sridhar V
Partner, Grant Thornton India LLP
This article appeared in DNA on 25th December, 2017.