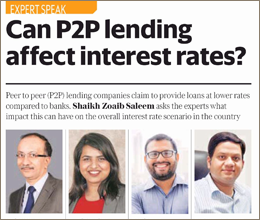 "In the current scenario, P2P lending will not have any impact on interest rates. P2P lending is very small in relation to the market. Available data in the public domain indicate a market size of about $5 million with a forecast of $5 billion by 2023. The overall market size for consumer unsecured lending is presently estimated at about $0.75 trillion and forecast to be nearly $2 trillion by 2023."
Harish H V
Partner, Grant Thornton India LLP

This article appeared in Live Mint on 31st October, 2017.