Healthcare and Life Sciences

Home
Report
Technology transformation for future-ready healthcare
Grant Thornton Bharat - AHPI report delves deep into understanding technology transformation in the Indian healthcare industry
Automotive and Manufacturing

Home
Article
Post-Budget Article: Impact on the Automotive Sector
The forward-looking approach adopted in the budget towards this sector has been in alignment with the government's goals of promoting Aatmanirbhar Bharat and moving firmly towards net-zero carbon emissions by 2070, shares Saket Mehra in this insightful article in Financial Express.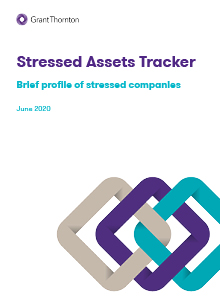 Download Tracker
Stressed Assets Tracker | June 2020
This Stressed Assets Tracker is a ready reckoner on stressed companies – some already under IBC, others headed in that direction. It has been compiled with information in the public domain for ease of reference of potential investors, both domestic and international.
Summary – Key financial metrics
| | Company name | Industry | Revenue | EBITDA | PAT | Long term Debt | Short term debt | Net block | Year end | Status | Admitted on |
| --- | --- | --- | --- | --- | --- | --- | --- | --- | --- | --- | --- |
| | | Amtek Auto Ltd. | Automotive and auto components | 11,549 | 531 | -2,917 | 170 | 1,29,925 | 21,398 | 2019 | Admitted |
| | | Base Corporation Ltd. | Automotive and auto components | 1,350 | 153 | 1,288 | 7,198 | 6,676 | 6,083 | 2015 | Admitted |
| | | Bripranil Industries Ltd. | Automotive and auto components | NA | NA | NA | NA | NA | NA | NA | Admitted |
| | | Castex Technologies Ltd. | Automotive and auto components | 4,606 | -134 | -5,232 | 1,620 | 76,897 | 50,371 | 2019 | Admitted |
| | | Dilip Chhabria Designs Pvt. Ltd. | Automotive and auto components | 465 | 31 | -162 | 1,254 | 968 | 1,874 | 2017 | Admitted |
| | | DSK Motors Pvt. Ltd. | Automotive and auto components | 8,461 | 453 | 27 | 1,776 | 1,643 | 1,547 | 2015 | Admitted |
| | | Falcon Tyres Ltd. | Automotive and auto components | 12,081 | 766 | 40 | N/A | N/A | 9,071 | 2014 | Admitted |
| | | Friends Auto (India) Ltd. | Automotive and auto components | 2,437 | 112 | 3 | 286 | 1,259 | 291 | 2018 | Admitted |
| | | Global Gallarie Motors Pvt. Ltd. | Automotive and auto components | 1,296 | 44 | -4 | N/A | N/A | N/A | 2014 | Admitted |
| | | GRL Tires Pvt. Ltd. | Automotive and auto components | 0 | -3 | -4 | 89 | 153 | 2 | 2015 | Admitted |