Tapping into the burgeoning BFSI market
FinTech Consulting Services

Leveraging our FinTech Consulting experience, we employ our proven approach in process reviews, tech risk management, and third-party audits for Indian financial services clients.
The Consumer & Retail sector is growing rapidly and is extremely dynamic. Due to constant disruption, managing business has become complicated and cumbersome.
Our healthcare and life sciences advisory team brings together a combined experience of over 50 years to help businesses navigate through changes, new...
At Grant Thornton in India, our automotive team works with a wide variety of clients to help them achieve their goals and increase shareholder wealth. Our...
M&E practice encompasses team of dynamic professionals with deep technical knowledge and extensive experience of working across segments say television, print,...
Tailored service offerings to Not for Profit organisations and CSR compliance services for dynamic businesses
At Grant Thornton, we assist dynamic Indian businesses in the Real Estate & Construction sector throughout their business life cycle by offering robust...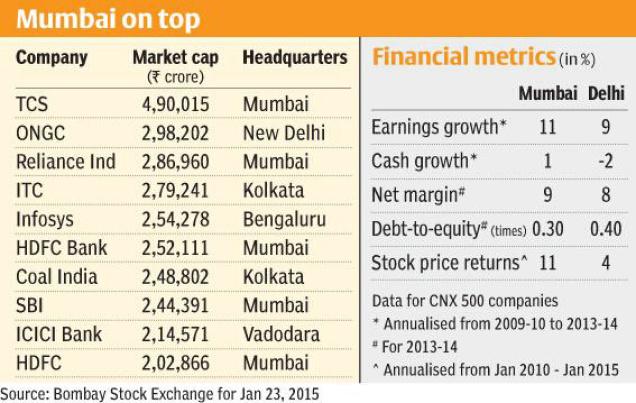 Financial hub status, large pool of talented professionals give Maximum City the edge
BL Research Bureau:
New Delhi may be the seat of political power, but Mumbai is the still the financial capital, attracting companies of every hue. Also, companies headquartered in Mumbai have performed well over the years and rewarded investors better.
Solid growth
A BusinessLine analysis reveals that of the CNX 500 companies, 146 have their headquarters in Mumbai while 57 are run from New Delhi. Mumbai-based companies account for over a third of the market capitalisation, against 17 per cent for New Delhi.
TCS and Reliance Industries, two of the largest companies in the CNX 500 index, based on market capitalisation, are run from Mumbai. Five of the top-10 companies are from Mumbai while New Delhi has only one in the list — ONGC.
Healthy returns
The popularity of Mumbai-based companies is partly due to the healthy stock price returns they have delivered over the years. If you had invested in Mumbai headquartered companies in the CNX-500 index, you would have enjoyed a median return of 11 per cent annually over the last five years. Those who bet on Delhi-based companies earned a meagre 4 per cent yearly return over the same period.
This performance can be explained by the relative financial metrics. For instance, in the last five years, the median annual earnings growth of companies that call Mumbai their home was 11 per cent. The figure was 9 per cent for those in the national capital.
Mumbai also scored well on other metrics such as net profit margins, debt-to-equity ratio and cash growth.
It might not be easy to unseat Mumbai from this coveted position in a hurry as it continues to be the preferred choice for new businesses.
Corporate magnet
Of the 53 companies that listed between 2010 and 2014, 24 set up their main offices in Mumbai. Only five made New Delhi their home. Many of the recent IPOs, such as Shemaroo Entertainment and Sharada Cropchem, were by Mumbai-based companies.
Why Mumbai?
Mumbai is a powerful financial centre with many banks and financial institutions having head offices in the city. Being close to the top decision-makers of funding institutions improves the chances of accessing funds.
The talent pool is also a big draw. "Ease of finding talented professionals is an attraction for Mumbai," says Raja Lahiri, Partner, Grant Thornton India.
The presence of big corporate houses — Tatas, Reliance, Godrej and Mahindras — and the fact that the city is home to companies from a wide range of sectors increases the chances of landing a plum job.
Job growth in the city has been robust as well. For instance, hiring site Naukri's job index shows 11 per cent year-on-year growth in hiring in Mumbai in December 2014.
In comparison, New Delhi recorded just 1 per cent growth.
"Companies in infrastructure, power and energy benefit from being close to their respective ministries. So they may prefer to set up operations in New Delhi to better understand regulatory issues," Lahiri observes.
In fact, lower rent and proximity to the ministries were two reasons why Air India shifted its headquarters from Mumbai to New Delhi in 2013.
And what are the other centres that are attracting new businesses? "Cities such as Pune and Bangalore are becoming a hub and Ahmedabad could be another potential destination for the future," he says.
Errata
The table on top ten companies by market capitalisation that accompanied the report was corrected as it contained data that was either wrong or outdated.
The article appeared in the Hindu Business Line. The article can be found here.