Tapping into the burgeoning BFSI market
FinTech Consulting Services

Leveraging our FinTech Consulting experience, we employ our proven approach in process reviews, tech risk management, and third-party audits for Indian financial services clients.
The Consumer & Retail sector is growing rapidly and is extremely dynamic. Due to constant disruption, managing business has become complicated and cumbersome.
Our healthcare and life sciences advisory team brings together a combined experience of over 50 years to help businesses navigate through changes, new...
At Grant Thornton in India, our automotive team works with a wide variety of clients to help them achieve their goals and increase shareholder wealth. Our...
M&E practice encompasses team of dynamic professionals with deep technical knowledge and extensive experience of working across segments say television, print,...
Tailored service offerings to Not for Profit organisations and CSR compliance services for dynamic businesses
At Grant Thornton, we assist dynamic Indian businesses in the Real Estate & Construction sector throughout their business life cycle by offering robust...
The corporate affairs ministry is seeking to liberalise managerial remuneration norms in the new Companies Act, a move to allow public limited companies to fix salary and benefits of key executives without the Centre's prior approval.
At present, a public limited company with an effective capital of less than Rs 100 crore and with no profit or 'inadequate' profit (in the preceding financial year) is required to take the ministry's approval before offering annual remuneration of more than Rs 42 lakh to a director or executive.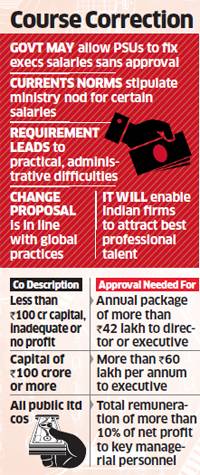 A company with a capital of Rs 100 crore or more cannot pay more than Rs 60 lakh per annum to an executive without government approval. Besides, all companies require the government's approval if the total remuneration to key managerial personnel exceeds 10% of their net profit. "The matter is being re-examined in light of evolving economic and regulatory environment," a senior government official said, requesting anonymity.
"We need to give more independence to companies. A substantial number of applications coming to the ministry fall under this category and the ministry's limited manpower is disproportionately involved in this exercise." Corporate India has been pushing for a relaxation of the norm, calling it unnecessary. Companies have also made several representations to the government.
"Corporate sector in India has evolved a lot in the last few decades. It is far more mature than when current requirements were introduced," said Yogesh Sharma, partner, assurance, at Grant Thornton India LLP. "From our experience, requirement for central government approval also resulted in practical and administrative difficulties, and hopefully, all such concerns will be addressed now."
"The proposal is in line with the international practices and is yet another step by the Companies Act 2013 to reform the corporate legislation. Above all, this will enable Indian companies to attract the best professional talent on a competitive basis," he said.
The regulation over managerial remuneration was included in the Act to protect stakeholders, particularly shareholders and creditors but it was seen as a hurdle in ease of doing business. "The new Act has ushered in an era of self-governance and shareholder empowerment and done away with the need for government approvals in areas such as related party transactions," said Sai Venkateshwaran, partner and head of accounting advisory services at KPMG in India.
"In case of managerial remuneration as well, a similar framework can be established to do away with government approvals, instead bringing in shareholder approvals, including non-interested shareholders, where required." This would particularly help companies that have inadequate profits for a variety of reasons such as the cyclical nature of business, he added.
The article appeared in the Economic Times. The article can be found here.