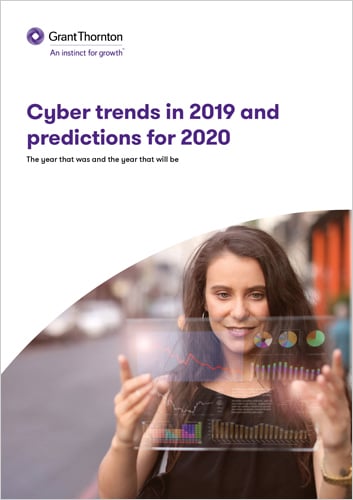 DOWNLOAD ARTICLE
Cyber trends in 2019 and predictions for 2020
Cyber risk has become a core concern for businesses across the world today, considering the destructive nature of cyber-attacks, data breaches and IT outages witnessed in 2019. With threat actors increasingly implementing advanced cyber-attack techniques, it has become essential to adopt a robust framework with solid cybersecurity controls. Businesses also need to follow a risk-based approach with continuous monitoring to mature their cybersecurity posture and address incidents proactively.
This article talks about some of the key cyber trends we witnessed in 2019 and the cyber predictions on the trends we can expect in 2020.
Disclaimer: The statistics mentioned in the report are not Grant Thornton research and have been duly referenced to the relevant link (URL) making that claim or to the key originators of the research. This article is only an attempt to consolidate information already available in the public domain and give a consolidated view to the readers on perceived events and future trends.