Tapping into the burgeoning BFSI market
FinTech Consulting Services

Leveraging our FinTech Consulting experience, we employ our proven approach in process reviews, tech risk management, and third-party audits for Indian financial services clients.
The Consumer & Retail sector is growing rapidly and is extremely dynamic. Due to constant disruption, managing business has become complicated and cumbersome.
Our healthcare and life sciences advisory team brings together a combined experience of over 50 years to help businesses navigate through changes, new...
At Grant Thornton in India, our automotive team works with a wide variety of clients to help them achieve their goals and increase shareholder wealth. Our...
M&E practice encompasses team of dynamic professionals with deep technical knowledge and extensive experience of working across segments say television, print,...
Tailored service offerings to Not for Profit organisations and CSR compliance services for dynamic businesses
At Grant Thornton, we assist dynamic Indian businesses in the Real Estate & Construction sector throughout their business life cycle by offering robust...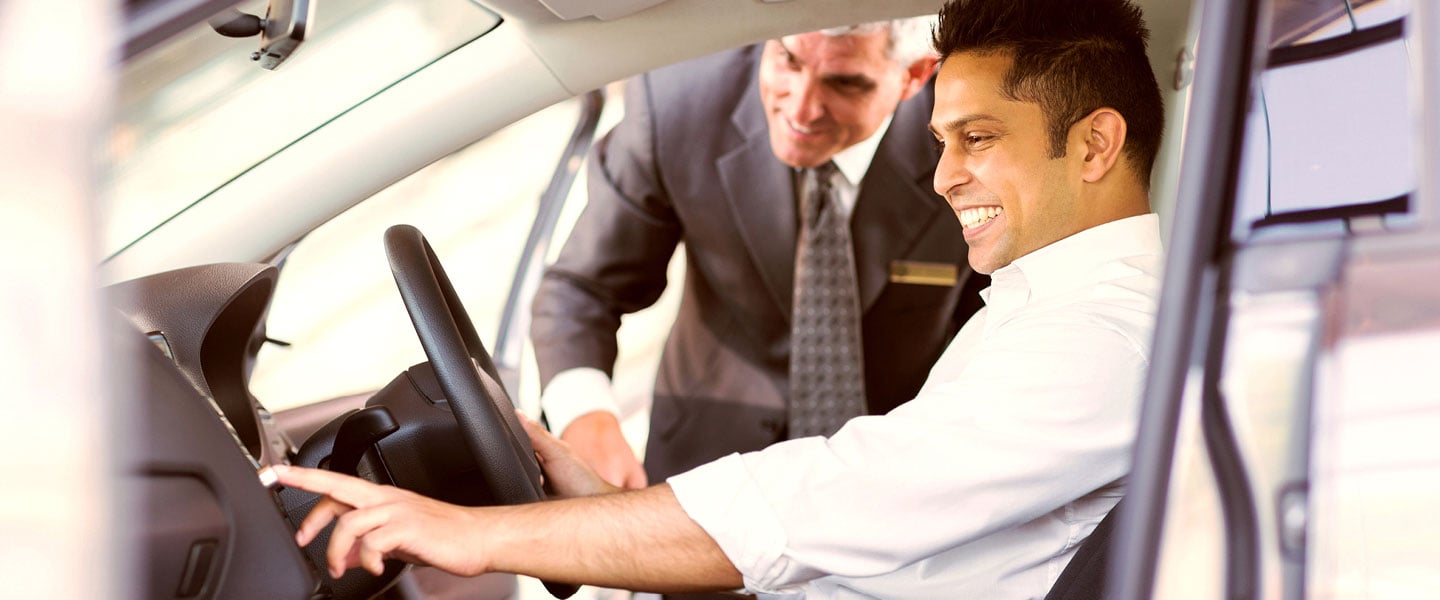 Even the onslaught of the second wave of the COVID-19 pandemic could not dampen the growth trajectory of the automotive industry. The time is opportune to accelerate the change processes by reviewing and adapting strategies and investment plans as consumer mobility demands are changing, forcing the industry to rethink its sales models and explore new concepts.
The automobile industry is one of the prime movers of the manufacturing sector and the 'Make in India' initiative. It aims to increase exports of vehicles by five times by 2026. The industry has the potential to generate up to USD 300 billion in revenue and around 65 million additional jobs by 2026.
Small and mid-size cars dominate in the passenger car sales category. Two-wheelers (2Ws) and passenger cars accounted for 81.2% and 14.6% market share, respectively, accounting for a combined sale of over 17.8 million vehicles in FY21.
Export incentives:
Under the Merchandise Export Incentive Scheme (MEIS), automobile manufacturers get a benefit of 2% on vehicle exports.
In terms of bilateral foreign trade agreements, about 20 tariff headings have been considered as 'sensitive items' to be maintained in the negative list of India in most of the trade agreements.
Additional capacity:
The cumulative FDI equity inflow in the automobile industry is USD 25,848.13 million from April 2000 to March 2021. This constitutes 4.88% of the total FDI inflow received across sectors.
The industry is expected to attract USD 8-10 billion in local and foreign investments by 2023.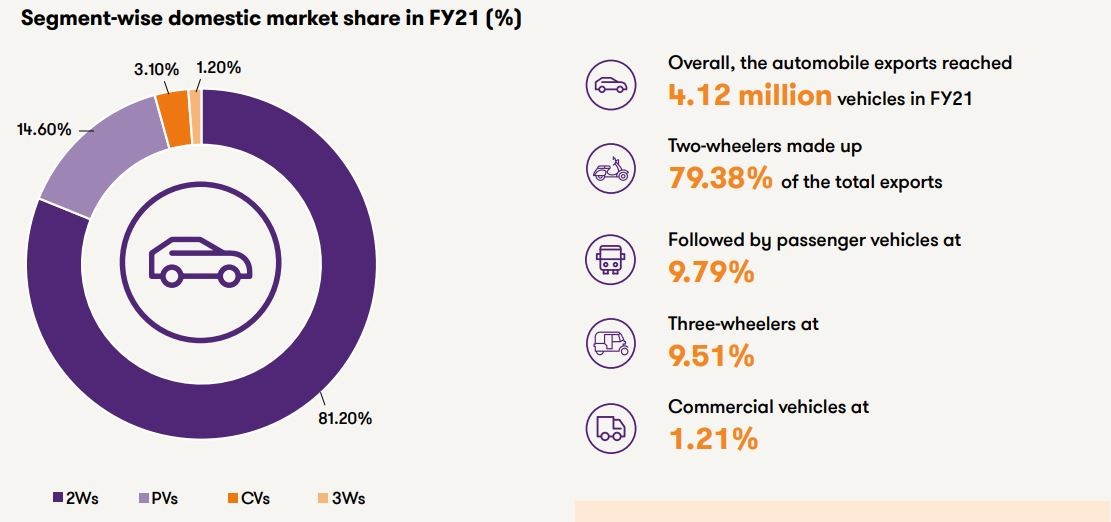 Impact of COVID-19 second wave
The sudden and severe onset of the second wave of the COVID-19 pandemic in the country has derailed the recovery momentum of automobile OEMs and auto ancillaries to quite an extent. While most of the segments would continue to report growth on a y-o-y basis, given the favourable base, the growth estimates stand revised downwards given the sharper and longer-than expected impact of the second wave.
The second wave has seen deeper and wider penetration including rural hinterlands.
Near-term supply disruptions in the sector.
Collapsed sales of new vehicles as auto plants and many dealers were forced to close.
Impact on disposable income and rising vehicle costs (including fuel cost).
The prolonged impact is likely to be on account of the effect on various demand drivers.
An elongated recovery cycle or possibility of a third wave offers further downside risks.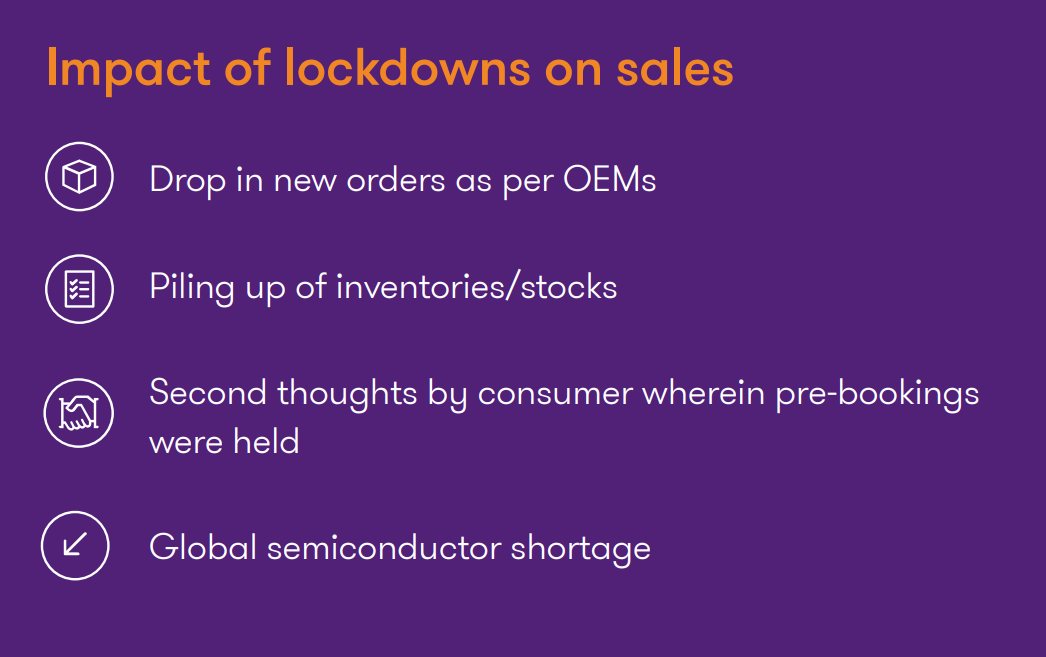 A resilient buyer sentiment would support a swift rebound in sales after the easing of restrictions. The industry expects to drive double-digit growth in FY22 from a low base, although sales volume is likely to remain below the peak in FY19. The rise in domestic sales in June 2021 is seen to be primarily driven by the pent-up demand.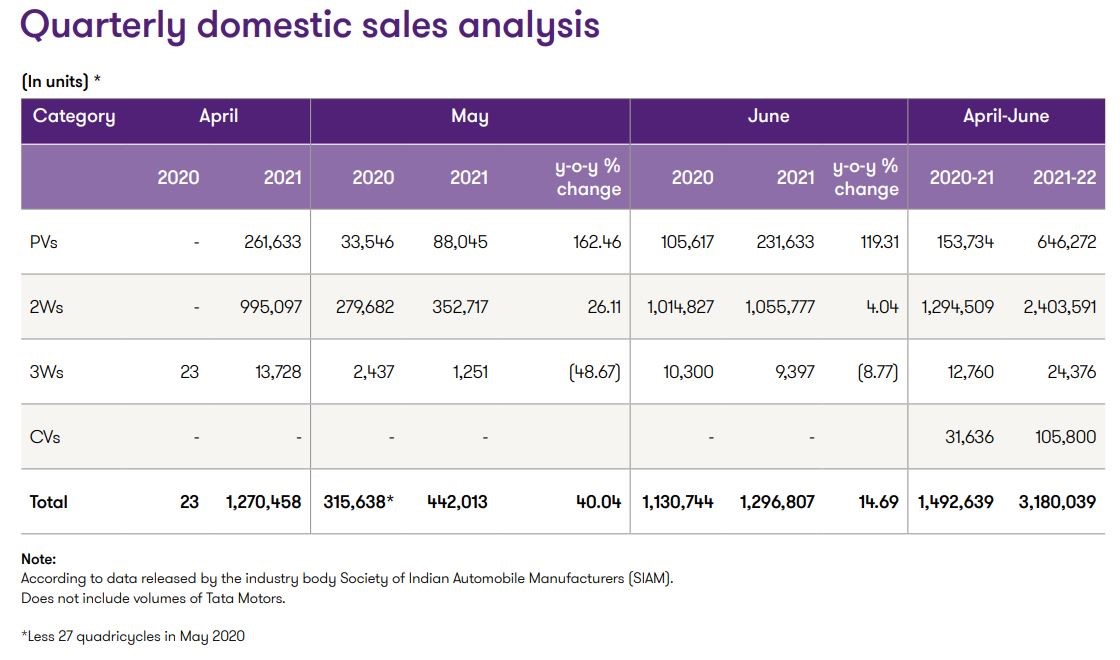 Auto Track Q1 FY22
The prospects for the automotive industry seem bright according to Grant Thornton Bharat - Auto Track Q1 FY22. Explore the in-depth report here.
Download PDF [6910 kb]