Tapping into the burgeoning BFSI market
FinTech Consulting Services

Leveraging our FinTech Consulting experience, we employ our proven approach in process reviews, tech risk management, and third-party audits for Indian financial services clients.
The Consumer & Retail sector is growing rapidly and is extremely dynamic. Due to constant disruption, managing business has become complicated and cumbersome.
Our healthcare and life sciences advisory team brings together a combined experience of over 50 years to help businesses navigate through changes, new...
At Grant Thornton in India, our automotive team works with a wide variety of clients to help them achieve their goals and increase shareholder wealth. Our...
M&E practice encompasses team of dynamic professionals with deep technical knowledge and extensive experience of working across segments say television, print,...
Tailored service offerings to Not for Profit organisations and CSR compliance services for dynamic businesses
At Grant Thornton, we assist dynamic Indian businesses in the Real Estate & Construction sector throughout their business life cycle by offering robust...
We are pleased to present the 15th annual Dealtracker, which captures the deal activities in India during 2019.
Deal summary
Volume
Value ($ million)
Year
2017
2018
2019
2017
2018
2019
Domestic
228
270
255
5,834
34,269
16,419
Cross-border
162
191
176
8,140
38,556
10,228

•

Inbound
86
100
95
5,962
25,741
8,237

•

Outbound
76
91
81
2,178
12,815
1,991
Mergers and internal restructuring
23
13
12
26,451
17,469
1,345
Total M&A
413
474
443
40,425
90,295
27,992
PE
736
793
814
20,505
20,678
33,642
Grand Total
1,149
1,267
1,257
60,930
110,973
61,634
Download full report
Download PDF [12325 kb]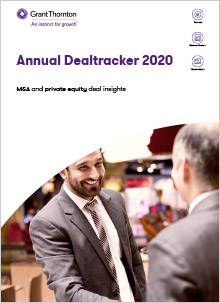 The year 2019 witnessed a series of worldwide economic uncertainties including the trade war escalation, prolonged Eurozone slowdown, no-deal Brexit and the risk of global recession. Amid these global tensions, India recorded just over USD 61 billion in deal values across around 1,200 transactions, which is a 44% drop in the values and more or less the same volumes as compared to 2018. The GDP also continued its
downward trend for the seventh consecutive quarter, falling to 4.5% in Q3 2019 after economic growth plunged to a six-year low at 5% for Q2 2019. Growth in India has taken a hit due to several factors, dampening the overall deal activity during 2019.
While domestic factors like growth slowdown, tight liquidity, market sentiment and currency depreciation added to the prevailing uncertainty, the M&A deal activity recorded a significant decline. The year recorded less than one-third of deal values at USD 27 billion compared to 2018, which recorded USD 90 billion on the back of 16 deals valued over USD 1 billion compared to only four this year.
While PE transactions had a subdued start in Q1 2019, PE investment values surpassed the 2018 figures, where deal value grew over 63% y-o-y at USD 33.6 billion across around 800 investments. This steep increase was driven by five deals in the billion-dollar club and 67 large deals of USD 100 million and above. This also led to another record year for increased growth-stage funding in more mature Indian companies. The primary reason for this was that besides the low sentiment as far as the Indian economy is concerned, PEs looking for divergence continue to be attracted to India's moderately long-term growth potential.
Sector focus: To capitalise on synergies and improve efficiency, widen the market reach, leverage balance sheet and pare debt, core sectors like manufacturing, energy, infra, banking, telecom and pharma remained dynamic, contributing to over 58% of total deal values. On the other hand, the tech segment remained the key to attracting substantial deal activity, with growing start-up, IT and e-commerce sectors witnessing maximum transactions during 2019 and adding to 62% of total deal volumes. These sectors attracted significant investor attention with their promising and unmatched scope for development with constant technological evolution. Further, pushed by strategy to support organic and inorganic initiatives for focus markets, divest non-core assets and enter new markets, the year also witnessed considerable volume of activity in the pharma, banking and retail sectors
Outlook: The government has implemented a slew of reforms in recent months to boost credit in the market: Slashing of the lending rate by the Reserve Bank of India five times this year, withdrawal of 'super-rich surcharge' imposed on foreign investors, exemption of start-ups from 'angel tax', an infusion of INR 70,000 crore in public sector banks and a significant cut in the corporate tax rate. These encouraging reforms are expected to start bearing fruit in the coming year and therefore lead to a slow and steady revival in terms of growth trajectory.
Further, the government's constant push for reforms seems to have brought the sentiments back on track, which is immediately visible from the stock market rally in the latter part of 2019 and early 2020. Specific results are expected to be demonstrated as the reforms gain momentum. India's improvement in the ease of doing business ranking is expected to push foreign investment into India. Nevertheless, we still seem to be weak on two core elements: enforcing contracts and registering property. Measures around these two, especially around enforcing contracts, will boost not just foreign investment but also domestic M&A where funding domestic transactions is still a stress on the acquirer's balance sheet.
Download deal list
Download PDF [735 kb]