Enhancing Export Competitiveness in Agro & Food Processing Sectors
Past Event:
Friday, December 17, 2021
With nearly half of the population engaged in agricultural and allied activities, the sector forms the backbone of India's economy. The agriculture sector has been in a bright spot in 2020-21, achieving a 3% increase in GVA in a year severely impacted by the pandemic. Agri exports have jumped by 17.34% in 2020-21 to a value of USD 41.5 billion. Likewise, the food processing industry has also been witnessing consistent growth and is expected to reach $535 billion by 2025-26. Horticulture production is set to be doubled by the year 2050. Despite this sector-wide growth, India's Agro sector faces challenges in form increasing its share in global agri exports, gaps in supply chain, enhancing institutional credit and others.
Also in spite of the recent developments around food processing, organic and indigenous farming, on-farm and off-farm technology etc. India's true Agro & food processing export potential remains widely underachieved.
In this context, the Confederation of Indian Industry (CII) in association with Grant Thornton Bharat, is organising a virtual session: Enhancing Export Competitiveness in Agro & Food Processing Sectors on 17 December where government and industry leaders shall deliberate on vital aspects such as leveraging government schemes, opportunities for private investments, use of technology, farm-level challenges, infrastructure/logistics development, and much more, to drive forward the agenda of enhancing India's Agro & food processing sectors. The webinar shall also facilitate networking among ecosystem players to deliberate on the strategies to enhance India's share in global agri exports (which currently stand at approx. 3%).
Who should attend:
| | | | |
| --- | --- | --- | --- |
| Exporters | Industry leaders | FPOs/Farmers/Cooperatives | Government Officials |
| Researchers | Agri Marketers and Start-ups | Product and Branding Heads | FMCG Representatives |
Speakers

Dr. Arvind Kapur
Acsen Hyveg Pvt Ltd

Ravindra Pandey
Goplajee Dairy Foods Pvt. Ltd.

Dr. Shahzada Singh Kapoor
Little Bee Inc. Dubai

Pradipta Kumar Sahoo
Chief Strategy Officer & Head International Business,
Mother Dairy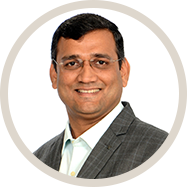 Naveen Malpani
Partner - Risk and Consumer & Retail Sector Leader
Grant Thornton Bharat

Chirag Jain (moderator)
Director – Public Sector Consulting
Grant Thornton Bharat