Healthcare and Life Sciences

Home
Our publications
BillionFit: Technology redesigning healthcare
Our report, BillionFit: Technology redesigning healthcare, navigates through key trends in disruptive technologies in healthcare, with a focus on India. This paper captures India's Healthcare and Fitness scenario from a technology perspective, while providing some insight into the recent developments globally.
Automotive and Manufacturing

Home
Report
M&A in auto: Shifting gears to be future ready
Grant Thornton report that outlines how the drivers of M&A-led expansion by Indian auto component players have been evolving
Media, Technology and Entertainment

Home
Publication
The Digital Accelerate – New regulatory framework implementation guide
The publication summarises the transition process mandated by TRAI for digital television services, and how consumers can select their subscriptions.
Real Estate and Construction

Home
Report
Improving transparency in secondary real estate market
Holistic pan-India assessment on various parameters in the secondary market & direct impact of a regularised secondary market on stakeholders.
Indian businesses continue to rank number 1 on the business optimism index: Grant Thornton Survey
Results of a quarterly conducted global business survey of 2,500 businesses across 36 economies suggest that business optimism is highest in India for the second consecutive quarter on account of a strong GDP growth, recent policy announcements and regulatory changes.
According to Grant Thornton International Business Report (IBR), India also tops the chart on expectations of an increasing revenue (88 percent) and employment (67 percent). However, the optimism dropped to 3rd position in Q1 2016 from top in last quarter (Q4 2015) in selling prices (60 percent) and profitability (73 percent) categories.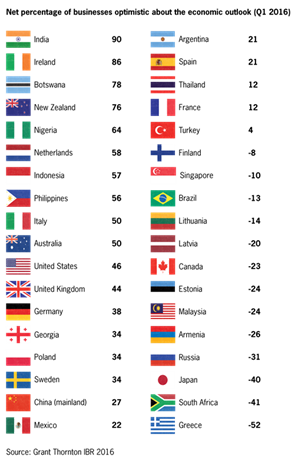 While there is rise in business confidence in India, the country ranks number 2 after Greece in citing regulations and red tape as a constraint on growth. Within the survey, 63 percent of the respondents indicated these as constraints. However, the good news is that there is a significant decrease in the percentage from last quarter where 74 percent cited red tape as a key constraint and India ranked number 1 on this chart. The survey also finds that shortage of finance is the biggest concern for India Inc. followed by ICT infrastructure and shortage of skilled labour. In order of ranking, these constraints rank number 1, 2 and 4, respectively.
"India once again is on top of the charts in terms of optimism and is clearly the one bright spot in the global economy. We believe this shows the optimism of the Indian businesses based on the several initiatives by the Government. These initiatives along with the current market opportunity that India presents reflect the poor economic conditions in the rest of the world. However, there are a number of actions and initiatives that are pending. For India to continue to achieve the planned success there is a need to focus on key reforms such as the proposed Goods and Services (GST), other related tax reforms and simplification of laws," said Harish HV, Partner – India Leadership team, Grant Thornton India LLP.
The IBR also shows that Indian businesses are most optimistic about investment in new building with 51 percent respondents expecting the investments to go into the segment. As far as investment in plant and machinery goes, only 47 percent expects a rise while ranking number 8 in this category. Another key highlight of the survey result is that there is a drastic fall in optimism for an increase in investment in R&D and export compared to last quarter. While only 31 percent expect an increase in R&D activities compared to 51 percent in Q4 2015, a small 13 percent foresee a rise in exports (28 percent in Q4 2015).
On the global front, business optimism fell to net 26 percent in Q1, the lowest quarterly figure since Q4 2012. The trend is evident across the globe, including the G7 (down 7 percentage points in Q1), EU (down 4pp), North America (down 6pp), Latin America (down 16pp) and Asia Pacific (down 10pp). Business optimism in Asia Pacific has fallen in the first quarter of 2016, however, across other measures including revenue and exports, Asia Pacific businesses are bucking the trend and reporting increased expectations for the next few months.
Ed Nusbaum, Global CEO at Grant Thornton, said:
"Businesses feel caught in a tangled web of pressures. The risk of a Brexit, uncertainty over the US presidential election, fears about terrorism, volatility in financial markets or the fall in oil prices present challenges individually, but when combined they have a dizzying effect. This is as sober a measure of business sentiment we've seen since the global economy returned to post-crisis growth. However, we've not seen a major economic jolt in the first quarter which could have triggered this drop in optimism.
"There is a risk we could talk ourselves into a downturn when in fact, moments like this present longer-term opportunities. A common feature in the stories of the most dynamic and successful firms is that they don't let the noise from these external factors out of their control distract them from looking at their own operations, and they continue to invest in the pursuit of growth years down the line. That may appear easier said than done at the moment, but without investment now, businesses will find themselves behind the curve when conditions overhead improve."