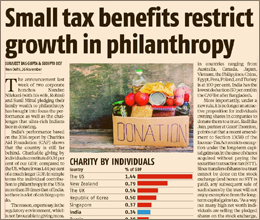 The announcement last week of two corporate honchos Nandan Nilekani (with his wife, Rohini) and Sunil Mittal pledging their family wealth to philanthropy has brought into focus the performance as well as the challenges that ultra-rich Indians face in donating. India's performance based on the 2016 report by Charities Aid Foundation (CAF) shows that the country is still far behind.
Charitable giving by individuals constituted 0.34 per cent of our GDP, compared to the US, where it was 1.44 per cent of a much larger GDP.
This article appeared in Business Standard on 27th November, 2017.