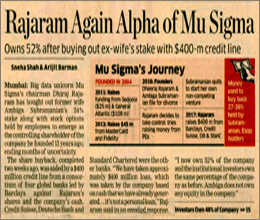 "Such things happen between business partners and founders all the time. It was unfortunate what happened at Mu Sigma. Now with the realignment in shareholding, it is good to see the company getting back to stability and expect to see it getting on the growth track and attain its lost Unicorn status again,"
Harish HV
Partner, Grant Thornton India LLP
This article appeared in Times of India on 12th July, 2017.