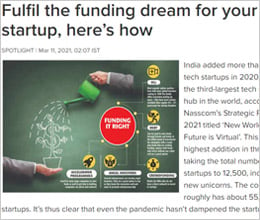 "Depending on the stage of startups, funding options need to be explored as angels and HNIs continue to play a key role in early-stage funding. Thereafter, VC players including Indian funds, global funds, funds of large tech and other conglomerates as well as family offices play a key role in funding Series A and Series B rounds."
- Raja Lahiri, Partner, Grant Thornton Bharat.
This article appeared in The Times of India on 11 March 2021.