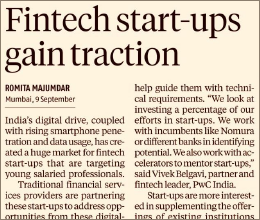 "Fintech is going to get much bigger than what it is with UPI, demonetisation and smartphone usage driving digital money adoption. Payment and lending space will see lot of action due to a huge unbanked population here. Banks and NBFCs need to come on board as strategic investors to capitalise this trend because while the startups have revolutionary algorithms, they still need data to fine tune it."
Vidhya Shankar
Executive Director, Grant Thornton India LLP
This article appeared in Business Standard on 09th September, 2017.