Tapping into the burgeoning BFSI market
FinTech Consulting Services

Leveraging our FinTech Consulting experience, we employ our proven approach in process reviews, tech risk management, and third-party audits for Indian financial services clients.
The Consumer & Retail sector is growing rapidly and is extremely dynamic. Due to constant disruption, managing business has become complicated and cumbersome.
Our healthcare and life sciences advisory team brings together a combined experience of over 50 years to help businesses navigate through changes, new...
At Grant Thornton in India, our automotive team works with a wide variety of clients to help them achieve their goals and increase shareholder wealth. Our...
M&E practice encompasses team of dynamic professionals with deep technical knowledge and extensive experience of working across segments say television, print,...
Tailored service offerings to Not for Profit organisations and CSR compliance services for dynamic businesses
At Grant Thornton, we assist dynamic Indian businesses in the Real Estate & Construction sector throughout their business life cycle by offering robust...
Many companies are likely to miss the April 1 deadline for putting women on their board of directors
Last week, Tata Consultancy Services, India's largest software services exporter, appointed Aarthi Subramanian, the company's global head of the delivery excellence group, as executive director on its board.
This is in line with Securities and Exchange Board of India (Sebi) rule of having at least one woman director on the board of all listed companies by April 1. However, surveys around board composition indicate that close to one-third listed companies are likely to miss the deadline. In September 2014, Sebi had given a six-month extension to companies to comply with this provision, dealing with norms for listed companies.
As many as 464 out of a total of 1,475 National Stock Exchange (NSE)-listed companies were yet to appoint a woman director on March 8, said Pranav Haldea, managing director, PRIME Database.
He added a flurry of announcements of such appointments were likely over the next two-three weeks. But the last-minute rush is also likely to see many woman family members from the promoter groups making the cut.
According to nseinfobase.com, over the past year at least 82 positions of NSE-listed companies have been filled by appointing women belonging to the promoter group. "Most corporates may eventually comply in letter, but not in spirit," said Haldea.
Many corporate head hunters, trainers and some directors themselves feel that the issue of not finding suitable woman candidates for the board is more deep seated, and its needs systemic course corrections.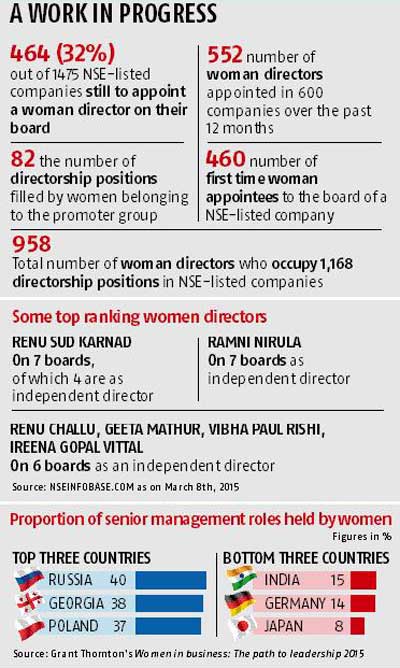 "Corporate India has not internalised the need to have woman directors. The need for gender diversity isn't truly felt across boardrooms, and the business case isn't compelling for companies," said Shriram Subramanian, founder and managing director, InGovern Research Services, a corporate governance advisory firm. Agreed Shachi Irde, executive director, Catalyst India WRC, a non-profit organisation that works to build inclusive workplaces. "Not enough is being done by business leaders and companies to disrupt the default status quo in the workplace."
The 2014 Catalyst Census: Women Board Directors notes that women's share of board seats in India is only 9.5 per cent. What further complicates the matter is that the proportion of senior management roles held by women in India is among the lowest in the world, pegged at 15 per cent, according to a report by Grant Thornton.
Some women have reluctance to raise their hands to take up the challenges and rigours that a top management job brings, according to Sangeeta Talwar, a marketing and branding specialist with three decades corporate experience, and currently on the board of half-a-dozen companies.
"Social perspectives and expectation requirements take their toll," said Talwar.
Catalyst found that nearly 50 per cent of Indian women drop out of the corporate employment pipeline between junior and mid-levels, compared with 29 per cent across Asia.
Some human resource heads complain that the restrictions in the number of directorship positions that a person can occupy according to Sebi corporate governance norms – a maximum of seven listed companies as an independent director and three, if the person is a whole-time director in a listed firm – makes their task harder. "Some relaxation for women directors would help," said the HR head of a finance firm.
However, many such as Irde feel there is no dearth of qualified women to take up board positions. "It is important to connect the right women with the right opportunities," she said.
Many trainers and human resource heads feel corporate India has to closely examine its retention strategies and pipeline-building processes to build on gender diversity within the organisation.
According to Shriram of Ingovern said it is futile to expect a regulatory need to bring about a mindset change within corporates.
"The pool can grow if companies recognise that gender diversity contributes to corporate performance." he added.
Having women from the family of the promoter on the board is a reality that corporate India and regulators have to live with, said Arun Duggal, chairman, Shriram Ownership Trust, who is involved in a mentorship programme for first-time woman directors. "This is a social change, and social evolution takes place with time," said Duggal.
Talwar said women from promoter families should have adequate exposure to the business before joining the board.
"A board position requires a director to bring to the table lot of strategic insights. They can only do that with proper exposure and professional training," she added. Irde, too, has nothing against choosing women on the boards of companies from promoter families as long as they are well qualified.
Many experts warn that if women from promoter families are given token board positions, the effectiveness of the board could get diminished in the long run. The best way to bite the bullet, say human resources experts, is to build on gender diversity across the organisation.