Tapping into the burgeoning BFSI market
FinTech Consulting Services

Leveraging our FinTech Consulting experience, we employ our proven approach in process reviews, tech risk management, and third-party audits for Indian financial services clients.
The Consumer & Retail sector is growing rapidly and is extremely dynamic. Due to constant disruption, managing business has become complicated and cumbersome.
Our healthcare and life sciences advisory team brings together a combined experience of over 50 years to help businesses navigate through changes, new...
At Grant Thornton in India, our automotive team works with a wide variety of clients to help them achieve their goals and increase shareholder wealth. Our...
M&E practice encompasses team of dynamic professionals with deep technical knowledge and extensive experience of working across segments say television, print,...
Tailored service offerings to Not for Profit organisations and CSR compliance services for dynamic businesses
At Grant Thornton, we assist dynamic Indian businesses in the Real Estate & Construction sector throughout their business life cycle by offering robust...
The country needs to fix its dismal track record when it comes to issues around cross-border trading, dealing with construction permits, and enforcing of contracts, to improve its overall rank
Addressing global dignitaries at the recently concluded Seventh Vibrant Gujarat Global Investors Summit in Gandhinagar, Prime Minister Narendra Modi said he wants to make India the easiest place to do business. "Ease of doing business in India is a prime concern for you and us. I assure you that we are working very seriously on it," he said. "We want to make them not only easier than earlier, not only easier than the rest, but, we want to make them the easiest."
But that's easier said than done. The 2015 World Bank group's Doing Business index ranked India at 142, down from 140, which it was the year before. Analysing the ten different parameters – starting a business, dealing with construction permits, getting electricity, registering a property, getting credit, protecting minority investors, paying taxes, trading across borders, enforcing contracts, resolving insolvency – the World Bank group gives individual rankings for each one of these, which collectively provides the final rank. Experts say if India is to improve its overall rank in Doing Business index, it is important to fix issues when it comes to trading across borders, dealing with construction permits, and enforcing contracts. India is dismally ranked 126, 184 and 186 in trading across borders, dealing with construction permits, and enforcing contracts, respectively.
Trading across borders
Easier export-import regulation have remained a major challenge for successsive governments. Getting regulatory clearances in ports and airports – which one needs in order to get the final custom clearance – is one of them. Experts say one key reason for cargo clogging many ports and airports is the multiplicity of regulators, and that not all of them sit at the terminal. Points out a Bengaluru-based custom agent: "There was no drug controller in Bengaluru for a long time. So if anybody wanted to bring in medicines, they have to either use the Chennai or the Mumbai terminals." In Delhi, it takes almost a week to 10 days if you want to get a food regulator's approval, said another custom agent.
Said a trade expert familiar with the issues: "A person should not be going to the regulator's office in the city. The regulator should be at the terminal itself. Courier companies do not have the Electronic Data Interchange (EDI) system yet – for easier custom clearance – even as the discussions have been going on for the last seven to nine years. Further, courier companies are not allowed commercial exports – only gifts and samples are allowed. Even though the country's foreign trade policy allows the use of courier companies for commercial exports, custom rules bar it.
Also, the number of documents required to carry out trading across borders in India are more. According to World Bank group Doing Business report, it takes seven documents to export, and ten to import, to and from India. The comparative number of documents required in Singapore is three. It takes 16 days in India, and six days in Singapore, to export. "It takes time to get documents approved by officials," explains an Indian exporter.
Dealing with construction permits
According to the Doing Business report, it takes around 25 permits to start a greenfield construction project in India. The time taken to get these permits is estimated at around 200 days.
"Dealing with multiple agencies and departments to get various clearances in the construction sector has been a cause of concern for developers," said Neeraj Sharma, Partner, Walker Chandiok & Co LLP. "This significantly derails their project planning and execution, and ultimately impacts the deliveries to the customers," he added. Many feel that the time is right for the government to create an online single window clearance mechanism which can decrease the time taken to get these clearances.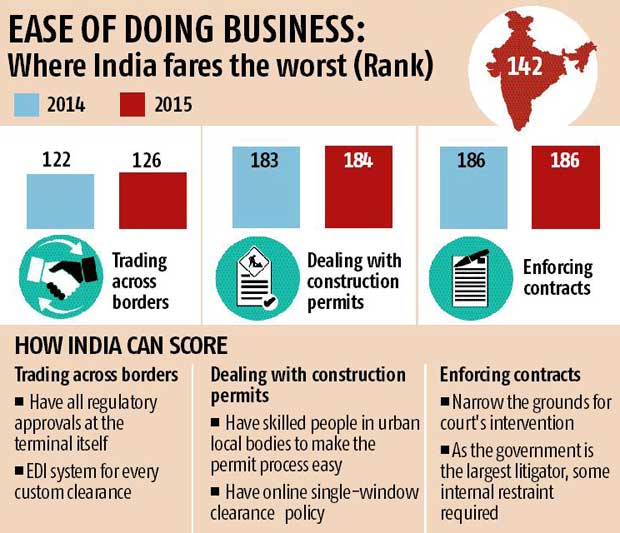 Another common industry complain is that urban planning bodies are filled with semi-skilled people who do not understand the complexity of the permit process. "India needs to significantly invest in capacity building and training in this respect. This can be done by setting up more educational institutions catering to the requirements of real estate and construction sectors," said Sachin Sandhir, Global Managing Director – Emerging Business and MD – South Asia, RICS. As per the Doing Business report it can take up to two months just to take a building construction permit in Delhi. In Mumbai, it can take up to 45 days to get permanent water and sewer connections. Sandhir said there was a need to modernise and streamline standards, bylaws, statutes and practices as the process remains complex, opaque, and lacks accountability.
Enforcing contracts
India is at the bottom of the chart at 186th place when it comes to enforcing of contracts. As per the Doing Business report, it takes almost four years to enforce a contract in India.
Settlement of claims is a protracted exercise burdened by several formal procedural requirements, say those in legal fraternity. "Even if private parties agree upon arbitration, which is an extra-judicial remedy, courts often intervene when approached by either party. This makes arbitration an even longer route for dispute settlement," said Aakanksha Joshi, Associate Partner at Economic Laws Practice. "Often, these tribunals have technical members who make decisions that are not in accordance with the law. Such decisions are bound be challenged on legal grounds, making dispute resolution even longer," she added.
Absence of speedy disposal of cases – complicated with less number of judges – is another issue which pinches the litigant the hardest. Experts advise that settlement through arbitration should be encouraged in a time-bound manner.
"The Arbitration and Conciliation Act Amendment Ordinance is a good step in this direction. It provides that the arbitration tribunal should take its decision within a period of nine months," said Lalit Kumar, Partner, J Sagar Associates. "There should be separate benches in the courts to hear commercial disputes exceeding a certain value." Most in the legal fraternity feel that with the government being the largest litigator in the country it is time to institutionalise dispute-resolution measures within government departments.
The article appeared in the Business Standard. The article can be found here.