Healthcare and Life Sciences

Home
Our publications
BillionFit: Technology redesigning healthcare
Our report, BillionFit: Technology redesigning healthcare, navigates through key trends in disruptive technologies in healthcare, with a focus on India. This paper captures India's Healthcare and Fitness scenario from a technology perspective, while providing some insight into the recent developments globally.
Automotive and Manufacturing

Home
Report
M&A in auto: Shifting gears to be future ready
Grant Thornton report that outlines how the drivers of M&A-led expansion by Indian auto component players have been evolving
Media, Technology and Entertainment

Home
Publication
The Digital Accelerate – New regulatory framework implementation guide
The publication summarises the transition process mandated by TRAI for digital television services, and how consumers can select their subscriptions.
Real Estate and Construction

Home
Report
Improving transparency in secondary real estate market
Holistic pan-India assessment on various parameters in the secondary market & direct impact of a regularised secondary market on stakeholders.
IndAS dents India Inc.'s profitability by 6.2 per cent, finds a Grant Thornton study
As the curtains drew on the first annual reporting by listed companies under the new accounting standards i.e. Indian Accounting Standards or IndAS, Grant Thornton conducted a study of more than 500 listed companies to assess the impact of IndAS implementation. The study finds that these listed companies reported a decline in their net profits by a whopping INR 13,680 crore which is a decline of 6.2 per cent over their previous reported profits under earlier accounting standards, for the previous financial year ended 31 March 2016.
However, as at that date, the net worth of these companies has been reported to have improved by 1.7 per cent, which reflects the net result of certain accounting policy choices made by these companies upon transition to IndAS.
Commenting on the study, Siddharth Talwar, Partner, Grant Thornton India LLP said, "Though different sectors of the economy have reported varied impact due to transition to IndAS, it is important to read the message underlying these reported numbers. What is important to note is the accounting policy choices made by the companies, the reasons behind these choices and important judgment and estimates applied by their management."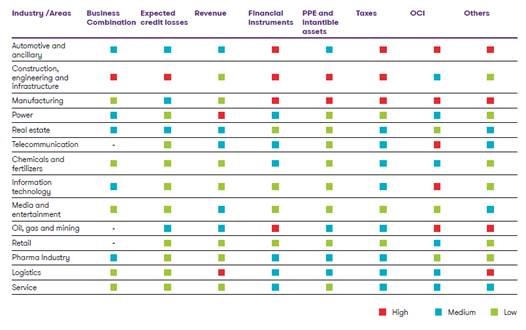 The construction, engineering and infrastructure sector has been hit the worst with a negative 117.5 per cent impact on its profitability due to IndAS transition. Further, profitability of the manufacturing sector, which constitutes more than 40 per cent of 500-plus companies covered by the Grant Thornton study, has been adversely affected by 42 per cent. On the flip side, logistics, telecom and real estate witnessed a positive impact on their profitability due to transition to IndAS.
"If one goes down deeper into these numbers, there are few common threads across most of the sectors – the areas of financial instruments, property, plant & equipment and revenue recognition have had a considerable impact on profitability and net worth of all sectors, warranting several decision-making points by financial statement prepared to reflect the true commercial substance and business rationale" he adds.
While fair valuation of financial instruments and property, plant and equipment (PPE) and intangible assets has increased the net worth substantially, the recognition of revenue from contracts with customers as per IndAS had a negative impact thereon. The adjustments in area of financial instruments have positively impacted the net worth by 1.8 per cent whereas for PPE and intangible assets, the adjustments upon IndAS transition boosted the net worth for these companies by 4.1 per cent.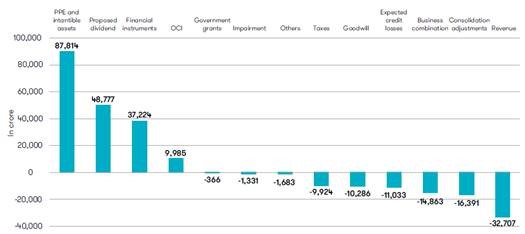 Corresponding to the positive impacts outlined above, financial instruments and PPE and intangible assets are also the areas wherein companies have experienced maximum negative impact on their total comprehensive income under Ind AS vis-à-vis reported IGAAP profitability. The former resulted in a negative impact of 4.7 per cent, while the latter resulted in a decline of 8.3 per cent in profitability.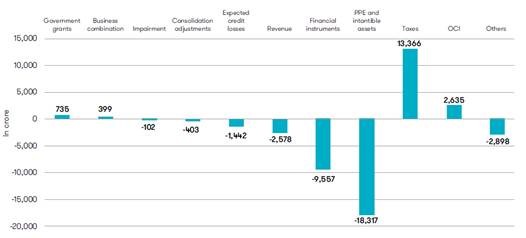 These results of the detailed study by Grant Thornton are in line with the findings of a survey conducted by it in early-2015, the time when IndAS was slated to become mandatory. The respondents at that time also had anticipated that fair valuation related accounting impact is likely to consume substantial time of financial reporting teams.