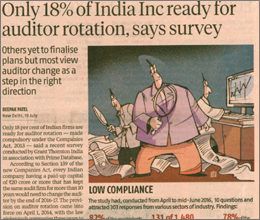 "I hope the Indian profession and India Inc implements mandatory firm rotation in substance, so that the objective behind this major reform is fully realised and the future of audit in India is bright. Otherwise, the value placed by external stakeholders on an audit will continue to be questioned, which cannot be in anyone's long-term interest."
Vishesh C Chandiok
National Managing Partner, Grant Thornton India LLP
This article apeared in Business Standard on 20th July, 2016.