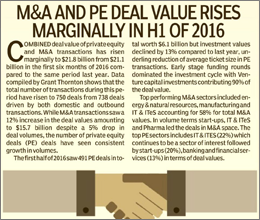 "The total number of transactions during this period have risen to 750 deals from 738 deals driven by both domestic and outbound transactions. While M&A transactions saw a 12% increase in the deal values amounting to $15.7 billion despite a 5% drop in deal volumes, the number of private equity deals (PE) deals have seen consistent growth in volumes."
Grant Thornton India LLP
This article apeared in Financial Express on 19th July, 2016.