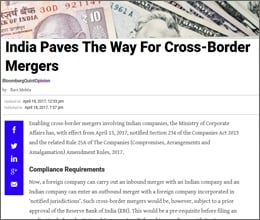 "There are several aspects that would require considerable evaluation for successful implementation of cross-border mergers including but not limited to a prior RBI clearance. These are - approval under competition law, feasibility of tax neutrality in all the relevant countries, impact of associated transaction costs (stamp duty, registration costs) and evaluation of impact under other tax provisions such as general anti-avoidance rules, base erosion and profit shifting, and place of effective management."

Ravi Mehta
Partner, Grant Thornton India LLP
This article apeared in Bloomberg Quint on 19th April, 2017.