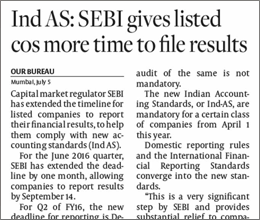 "This is a very significant step by SEBI and provides substantial relief to companies declaring the Ind-AS compliant results for the first time in June 2016.
Further, disclosures of reserves and balance sheet information for March 2016 are other relaxations given by SEBI. We welcome this pragmatic move by SEBI."
Ashish Gupta
Director, Grant Thornton Advisory Private Limited
This article apeared in The Hindu Business Line on 06th July, 2016.