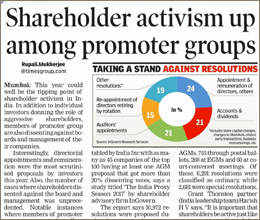 "It is important that shareholders be active just like we want active and knowledgeable voters in a democracy. This will keep managements on their toes and ensure that interests of public shareholders not in management are also heard. This can also result in the ability of shareholders to vote out inefficient or ineffective managements and we can expect as a next phase an active market for controls which will maximise shareholder value. Last year, we saw increased efforts by institutional investors to question incumbent managements and challenge resolutions. This resulted in some questionable resolutions being voted out. We hope to see more of this in the years ahead."
Harish H.V.
Partner, Grant Thornton India LLP
This article appeared in Times of India on 29th November, 2017.